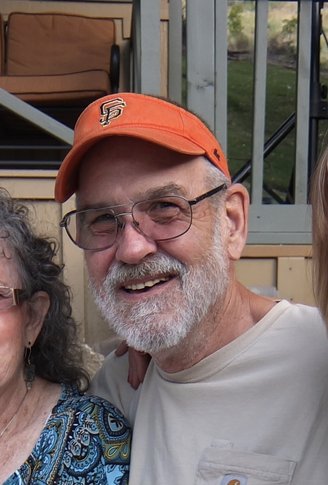 David was born on August 20, 1947 and passed away on September 12, 2018 after a brief illness. David was the third of twelve children born to E.G. "Gerry" and Oriel Ayers.
David attended St. Bernard's for many years and graduated from Eureka High School in 1965, all the time working after school, weekends, and summers for his father at Ayers Distributing. After graduation, he went to work full time for the company until he enlisted in the National Guard in 1966. Upon returning from the National Guard, David continued to work at Ayers Distributing. He married Sidney Belair in 1968. David was actively involved in local basketball and baseball leagues and enjoyed hunting and fishing throughout Northern California with his brothers and many friends. In December 1975, David and his family moved to Redding. Redding is where he began his career in carpentry. He worked in housing construction, specializing in finish carpentry. David worked (and played) with Blake Spiering and Walt Crandell for many years. Many memories were made hunting, fishing, and spending time on the lakes in Redding with his family and dear friends.
David met and fell in love with Sue and moved to Salyer in 1982. David married Sue in 1984. Luckily for David, he gained one more daughter, Hiedi. Together David and Sue shared an amazing 36 years. They purchased the Salyer Store in 1984 and ran it for seven years. After selling the store, David returned to his true passion, carpentry. David had a creative eye for woodworking and managed to produce many crazy inventions or "contraptions." David was very proud of the house he and LeeRoy Ammon built for Colleen McCullough and all the unique carpentry work for Wade and Judy Ammon. No matter how busy he was he always made time for camping trips to the Ammon Ranch and Corral Bottom. There were many trips with many memories made. David loved his camping family.
David was a long-time fan of the 49ers, Giants, and Golden State Warriors. He especially enjoyed watching his grandkids excel in their sports and participation in other special events. David was extremely proud of all of his children and grandchildren.
David is survived by his loving wife, Sue; his daughters Lisa (Will) Sullivan, Kelly (Tanka Chase) Ayers, Hiedi (Darin Sr.) Jarnaghan, and Jill Ayers; his grandchildren Alexandria, Maggie Joe, Lillian and Darin Jr. Jarnaghan, Hazel and Milo Schumacher, and Kelton and Hudson Chase; and his great grandchildren Bodi and Ameera Jarnaghan. His surviving brothers are Michael (Karen) Ayers, Phil (Jani) Ayers, Paul (Nancy) Ayers, Tim (Lisa) Ayers, and Pat Ayers. His surviving sisters are Melinda (Norman) Overmoe, Eileen Ayers, Elizabeth Ayers, Maureen (Michael) Brown, Catherine (Matt Faubion) Ayers, and Anne (Steve) Ramirez. David was an unforgettable Uncle to many nieces, nephews, great nieces and great nephews. He had many cousins he loved and cherished as well. David is also survived by his close friends Johnny Pelascini, Louie Bonomini, Francis Brazil and Bert King as well as the son he never had, Jason Weber. He is also survived by the mother of Lisa, Kelly and Jill, Sidney Hansen.
David is preceded in death by his parents E.G. "Gerry" and Oriel Ayers, son-in-law Bill Schumacher and former father-in-law Edward Belair; his special friends Earl Ammon, LeeRoy Ammon, Blake Spiering, and Rich Keller.
The family will be having a memorial and reception on September 29, 2018 at 2 p.m. at the Elks Lodge in Eureka, California. In lieu of flowers please donate to St. Vincent De Paul in Eureka.
###
The obituary above was submitted on behalf of David Ayer's family. The Lost Coast Outpost runs obituaries of Humboldt County residents at no charge. See guidelines here.