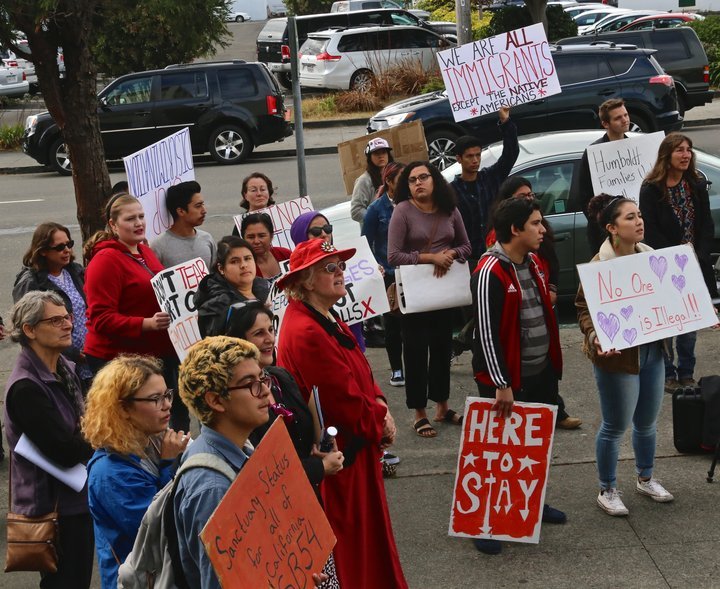 From Centro del Pueblo:

Local faith leaders will lead a press conference on Wednesday, September 26, at 12:30-1 p.m., on the front sidewalk of the County Courthouse, to counter Sheriff Billy Honsal's statements that Measure K's implementation will cost taxpayers between $171,500 and $312,650.

A recent article in the Times-Standard ("Sanctuary county ordinance would cost hundreds of thousands, report shows," Sept. 4, 2018) stated that if the initiative passes in November, "the Humboldt County Sheriff's Office would need to provide a "semiannual report to the county describing the rationale behind every civil immigration detainment made that year. Human Resources workers would oversee whether procedures were being followed and the Sheriff's Office would track federal immigration officers' trips into the county."

Measure K does not require the Sheriff to do significantly more work than what he already has to do under State Law. Under Measure K, The Humboldt Probation Department would have the exact same reporting requirement, an estimated $1,250 to $2,500, a much lower amount than $171,500 to $312,650.

The Faith Leader speakers will include representatives from the Methodist, Indigenous, Lutheran, Jewish, Christian faith traditions. Community speakers will include representatives from Centro del Pueblo & the Green Party.

Brenda Perez, a member of the grassroots organization Centro del Pueblo says: "By passing Measure K, Humboldt County will join over 60 other jurisdictions around the country in standing up to the federal government on how to spend local funds. In Humboldt, we don't want local funds to go towards the separation of families, fear of accessing services, or mistrust of local law enforcement. We want a county that is clear about everyone being welcome and considered equal members of our community."

Join Centro del Pueblo at this press conference to dispel any myths about Measure K, to find understanding about Measure K's impact to our community, and to bring our community together again.