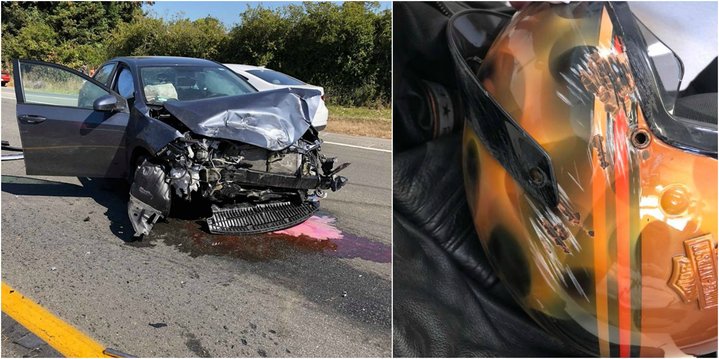 CHP press release:

On 09/23/2018, at approximately 1207 hours, a white Subaru Forester was traveling westbound on the westbound SR-299 transition to northbound US-101.

The driver of the Subaru, Mr. Alexander Sarver, failed to negotiate the right turn of the transition road, and left the roadway traveling in an westerly direction.

The Subaru collided with a right-turn arrow marker, a utility junction box, and then entered the northbound lanes of US-101, where it collided with a dark grey Toyota Corolla sedan, which was being driven by a Mr. Trenton Pruitt, that was traveling northbound on US-101, in the #2 lane.

The Subaru then continued to the west, where it collided with the metal median barrier, traveled over the barrier, and subsequently landed in the southbound lanes of US-101. As a result of the impact with the Subaru, the Toyota went into a spin, and was rotating in the northbound lanes of US-101, while sliding in a northerly direction.

Mr. David Berrey was riding his 2008 Harley Davidson northbound on US-101 in the #1 lane, to the rear of the Toyota. Mr. Berrey observed the collision between the Subaru and the Toyota, and applied his Harley Davidson's brakes, and steered to the left in an attempt to avoid a collision.

As the Toyota rotated counterclockwise, the right front corner of the Toyota collided with the right side of Mr. Berrey's Harley Davidson. The impact caused the Harley Davidson to fall to it's right side, onto the roadway. Mr. Berrey and the Harley Davidson slid on the highway in a northwesterly direction.

After the collision, Mr. Berrey, and his motorcycle came to rest on the west median shoulder of US-101 N/B. Mr Pruitt's Toyota came to rest on it's wheels, in the northbound lanes of US-101, facing in a southwesterly direction. The Subaru driven by Mr. Sarver came to rest in an upright position, in the southbound lanes of US-101, facing in a southeasterly direction.

Upon contact by Officers at the scene, Mr. Sarver showed obvious signs of intoxication, and was placed under arrest for suspicion of driving under the influence. Mr. Berrey sustained major injuries as a result of the collision, and was transported to Mad River Community Hospital for medical treatment. Mr. Pruitt, and his passenger, Erica Wennerholm were uninjured as a result of the collision.