PREVIOUSLY: Arcata Business Owner Arrested in 'One of the Largest Cocaine Seizures in Recent County History'
# # #
An Arcata businessman charged with being a major local drug trafficker was able to stay out of jail today after posting higher bail, but he could be behind bars tomorrow unless his attorney can convince a judge the money is clean.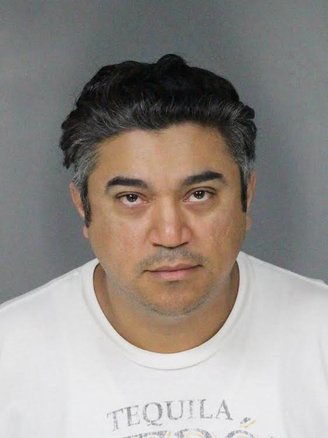 This morning started out with Judge Christopher Wilson denying Deputy District Attorney Trent Timm's motions to increase the $50,000 bail for Ariel Arguelles-Sosa to $100,000, and to find "probable cause" the bail money Arguelles-Sosa posted after his arrest was drug money. Timm then requested an evidentiary hearing, saying he had law enforcement officers there to testify.
Wilson ordered the proceeding moved to Judge Kaleb Cockrum's courtroom, where Cockrum proceeded to first grant the prosecution's motion to add a so-called "weight enhancement" to the charges against 40-year-old Arguelles-Sosa and his cousin, Abdiel Parras-Sosa, 20. That's because officers found 2.9 pounds of cocaine in Arguelles-Sosa's bedroom during a search of his Arcata home on Aug. 30.
Because of the new charge, the judge increased Arguelles-Sosa's bail and was ready to order him back to jail today. But defense attorney Russ Clanton convinced Cockrum to allow Arguelles-Sosa to contact a bail bondsman and come up with the extra money. He was able to do that, with the bail bondsman arriving in court to say his office was working on the papers.
It all could change tomorrow. Humboldt County Drug Task Force agents will testify about the arrests and the drugs they seized: not only 2.9 pounds of cocaine, but several ounces of heroin and methamphetamine and $65,000 in cash. Timm pointed out that if the amount of cocaine had been 3 pounds, "just a tiny bit more," Arguelles-Sosa's bail would be $500,000.
Arguelles-Sosa owns Ricos Tacos, a small restaurant across the street from Arcata Police Department. Officers found no drugs there, but made a haul when they searched Arguelles-Sosa's home on Ponderosa Way in Arcata.
This morning Cockrum, after reviewing a written declaration from Timm, said he does believe there is probable cause the bail money was from drug proceeds. For example, the judge said, Arguelles-Sosa made a statement about using his drug profits to keep his legitimate business running.
The judge will not make an official ruling until after the evidentiary hearing tomorrow morning. If he does find the money came from drug-dealing, Arguelles-Sosa could be jailed without bail.
Timm argued Arguelles-Sosa is a danger to the community, saying he had been selling "controlled substances in large quantities." He said deaths from heroin overdoses have become all too common.
Clanton responded that the whole point of bail is to make sure the defendant shows up for court, which he has done faithfully.
"He's a business owner in this community," Clanton said. "He's a property owner in this community."
He also noted co-defendant Parras is facing the same charges, yet he's free from jail on his own recognizance.
But Timm said the men's situation is not similar, because the cocaine and money were found in Arguelles-Sosa's bedroom, not in Parras' room. He said the prosecution has "a much stronger case" against Arguelles-Sosa.
Clanton said Arguelles-Sosa has not been making enormous amounts of money and in fact lives "in very humble circumstances." To post the original $50,000 bail, he said, Arguelles-Sosa had to sell some of his wife's jewelry and get a loan from a cousin.
The Drug Task Force has described the bust as "believed to be one of the largest Humboldt County cocaine seizures in recent history."