Local pro MMA fighter Cass Bell remains undefeated after submitting his opponent Ty Costa last night at Bellator 206.

Bell previously predicted that he would beat Costa in round two and that's exactly what happened.
For a moment it looked like the fight could go either way, as Costa pinned Bell to the mat in the first minute of the second round. But inch by inch, Bell began to masterfully maneuver himself out from under the takedown by locking his legs around Costa's left arm.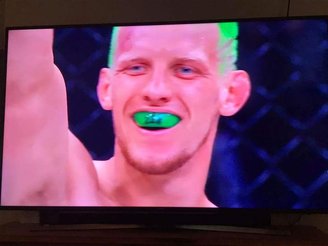 Despite Costa's numerous attempts to shake Bell's grip by lifting him up and slamming him to the canvas, Bell remained wrapped around Costa's arm like a neon green bear trap.
By the three-minute mark, Bell wriggled himself into position and yanked Costa's arm backwards, forcing him to immediately tap out of the excruciating hold. And that was it.
Bell now has a professional record of 2-0. He has yet to go the distance in a professional match, submitting both his opponents in round two. Watch the fight in its entirety below.