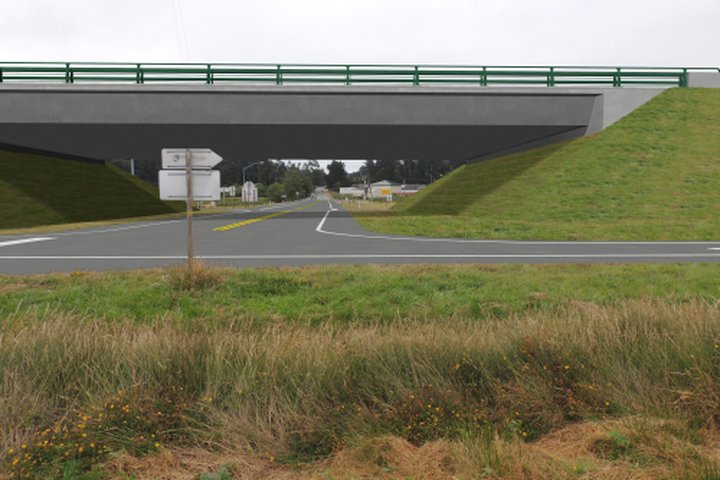 It looks as though Caltrans is preparing a big push forward on its years-in-the-making effort to rebuild Highway 101 between Eureka and Arcata, along what we've grown accustomed to calling "the safety corridor."
Caltrans has called a public meeting on the project for the evening of Tuesday, April 23 at the Wharfinger Building, where the agency promises to provide the public with an overview of the project and take questions.
This public meeting comes in advance of a meeting of the California Coastal Commission in June, where Caltrans will apparently ask the commission to officially grant it a permit to begin construction.
The "Eureka-Arcata Route 101 Corridor Improvement" has been under development, in one way or another, for over 10 years. In its current form, it includes the construction of an interchange — or what Caltrans is calling an "undercrossing" — at the Indianola Cutoff, a median barrier, and the elimination of all other at-grade crossings at Bracut, the Bayside exit, Mid-City Motor World and elsewhere, and a median barrier. It also includes numerous minor improvements and environmental remediation efforts.
Earlier this morning, the Northcoast Environmental Center sent out an alert to its membership about Tuesday's public meeting, saying that from its perspective Caltrans has yet to demonstrate that it will fulfill conditions that the Coastal Commission had previously placed on securing approval. Among those conditions: The removal of billboards, a plan to cope with sea level rise, and a plan for improved pedestrian and bicycle transportation between the two cities. (Though as the NEC noted, that last condition seems nearly met with funding now in place for the last leg of the Humboldt Bay Trail.)
The NEC is also calling for the Coastal Commission to delay a hearing on the project until it can do so locally. The June meeting of the commission, where it's expected that Caltrans will ask for the commission's blessing, will be held in San Diego; meanwhile, the commission is scheduled to meet in Arcata just two months later.
"A project of this impact and magnitude must include a local hearing with a real opportunity for public input, not an informal dog and pony show without any real chance to affect the outcome," the center writes.
Marcella Clem, executive director of the Humboldt County Association of Governments, told the Outpost this morning that Caltrans shot for the June date so it could meet deadlines for funding associated with particular parts of the project. If it doesn't have a coastal development permit in hand, Clem said, Caltrans might not be eligible for grants that could fund aspects of the project.
Caltrans' meeting starts at 5:30 p.m. Tuesday, April 23, at the Wharfinger Building in Eureka. Press release from Caltrans below:
On Tuesday, April 23 at the Wharfinger Building in Eureka, Caltrans will host a public meeting about improvement projects on U.S Highway 101 between Eureka and Arcata. Members of the public are invited to view a presentation and ask questions.

Projects to be discussed include:

• An undercrossing at the Indianola Cutoff and a half signal at Airport Road
• Acceleration and deceleration lane improvements
• Cable median barrier
• Bridge and bridge rail replacements at Jacoby Creek and Gannon Slough
• Tide gate replacements

Project Manager Jeff Pimentel will start the meeting with an oral presentation presenting an overview of the projects as well as provide updates on project designs, permits and timelines.

After that Caltrans will open the meeting for questions and comments which will be fielded by a panel of project staff.

Doors will open at 5 p.m with presentation at 5:30 p.m.

Caltrans Public Meeting on the Eureka/Arcata Corridor Projects
5:30 to 7:00 pm on Tuesday, April 23rd
Wharfinger Building, 1 Marina Way, Eureka