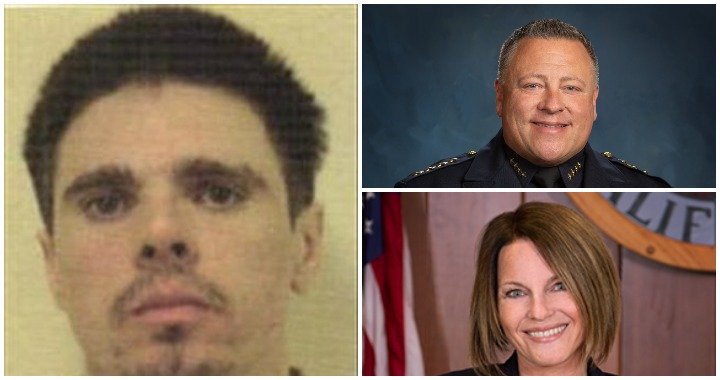 PREVIOUSLY:
###
Eureka city officials are actively organizing a protest campaign that they hope will convince a judge to deny the placement of convicted child molester and sexually violent predator in local motels on a rotating basis.
These civic leaders — among them Police Chief Steve Watson and City Councilmember Kim Bergel — were taken aback last week when Humboldt County Superior Court Judge John Feeney, during a hearing on whether to place the man in Southern Humboldt, abruptly signaled that he would be open to releasing the felon in Eureka instead.
Feeney set a new court date to talk about this proposal, and now Bergel, Watson and others are urging Eureka citizens to quickly organize a letter-writing campaign in opposition, and also to show up to court on the morning of May 3 to state why they don't want the felon living in their town.
They could be fighting an uphill battle. Feeney is under orders from a state court of appeals to find a home for the offender — former Humboldt County resident Joshua Cooley, who has a long history of sexual, violent and drug- and cocaine-assisted assaults against young children and who is currently housed in Coalinga State Hospital. That order came down around two years ago, and Feeney has subsequently denied Cooley the right to live in two other Humboldt County spots: A place on Howard Heights Road, in Freshwater, and a place on Alderpoint Road outside of Garberville.
It was during this last week that Feeney brought up the idea of ordering Cooley placed in Eureka. He had just denied he petition brought by Cooley's lawyer and representatives of Liberty Healthcare, the private firm that will be charged with supervising Cooley upon his release, to allow Cooley to live on a former cannabis farm a few miles outside Garberville, on the grounds that a rural community so far removed from regular law enforcement services would not be suitable.
But Feeney remembered a previous offer that Liberty Healthcare's representatives had made at earlier hearing, one pertaining to the potential Freshwater location. At the time, Feeney said, Liberty had offered to place Cooley in Eureka motels, on a transient basis — the parolee would stay at one motel for a few days, then move to another. Feeney said he had dismissed the idea at the time, but had since changed his mind.
"I do believe now that transient placement here in Eureka would be in the best interest of public safety," Feeney said. The representative from Liberty Healthcare asked for a couple of weeks to make sure those arrangements were still available, and Feeney agreed. A new court date was set for May 3.
District Attorney Maggie Fleming told the judge that her office would remain opposed to any potential release of Cooley into the general population in Humboldt County given his history, along with the reports her office has received of his aggressive behavior inside Coalinga and his refusal to participate in certain treatment programs. But Feeney told her that he had a "pretty clear" order from an appellate court to find a place for Cooley to live in Humboldt County, and he was pretty clearly leaning toward Liberty's motel-to-motel transient plan as the least worst option.
Eureka Police Chief Steve Watson told the Outpost yesterday that he learned of the judge's plans by reading about it in local news reports last week, and he's ready to fight back against any plan to put Cooley in his city.
"Decisions like these are baffling and deeply concerning," Watson said. "If [Feeney] thought his courtroom was packed before — get ready."
While he underscored that he didn't bear any ill will against Feeney personally, and that he certainly understands their respective roles in the criminal justice system, Watson said that he would be sure to make clear to the judge why he believes that putting Cooley in local motels is a bad idea.
His first concern, he said, is the safety of the community — particularly the employees and guests of the transient motels where Cooley will be placed. He pointed to Cooley's long record of offenses against children and said that he, like Fleming, had been given to understand that Cooley's record of rehabilitation from the state mental hospital was incomplete and troubling. The types of motels Cooley would be placed in, Watson felt sure, would be long-term stay places that were generally occupied by low-income families on public assistance, and he didn't want to see children of such families endangered by a potential predator.
Watson was peeved that Liberty Healthcare, which will be charged with monitoring Cooley's whereabouts and activities, had yet to reach out to the Eureka Police Department to discuss the details of their plan. "Liberty Healthcare, you tell me how you're going to plan for the safety of the citizens of Eureka," he said.
Like Councilmember Kim Bergel, who has been reaching out to her constituents on the issue, Watson asked citizens of Eureka to make their voices heard to the judge. He asked Eurekans to "flood the courtroom — respectfully."
The famously compassionate Bergel, who has long acted as a go-between for the city and local homeless citizens, was if anything even more adamant than Watson when the Outpost spoke to her yesterday.
"I will do everything I can to make it not happen," she said. "I have no tolerance for people like this. Zero. As much of the community that's willing to get involved in this one – we really have to fight."
On her Facebook page (see embedded post above), Bergel urges Eurekans to write to Judge John Feeney care of the Humboldt County Superior Court and to email District Attorney Maggie Fleming with their thoughts and concerns — and, as Watson said, to "flood the courtroom" on May 3.
"I really believe that people can change if they're willing, but unfortunately Mr. Cooley has shown no willingness in his treatment programs to change," she said. "And that worries me."
The hearing on whether to release Cooley to Eureka is currently scheduled for Friday, May 3, at 8:30 a.m. in Courtroom One of the Humboldt County Courthouse. As it has in the past, the court may decide to move proceedings into the Board of Supervisors' chambers on the courthouse's first floor if it looks as though a great number of people will be attending.