Warning: This story contains graphic descriptions of child abuse that were presented in court today.
###
Jurors began deliberating this afternoon on the guilt or innocence of Chad Alan Smith, accused of the years-long sexual abuse of one young girl and the one-time molestation of another.

"How did we get here, where a young lady can come into court, make stuff up, admit she's made stuff up?" defense attorney Andrea Sullivan asked the jury during closing arguments today.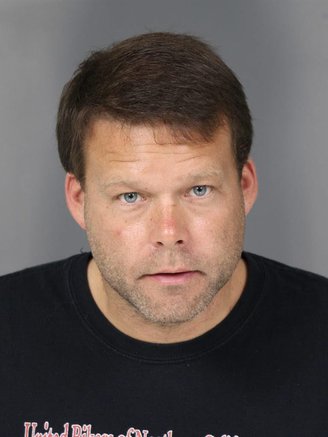 "We got here, ladies and gentlemen, because of the acts of this man, Chad Smith," Deputy District Attorney Stacey Eads responded during her rebuttal argument. She pointed at Smith, sitting in his gray suit next to Sullivan at the counsel table.
Now the nine-man, three woman jury must decide whether Jane Does One and Two took the witness stand and lied, with Doe One claiming Smith began sexually molesting her when she was 9 and had intercourse with her when she was 11. At the time, Doe One testified, Smith had his penis covered in Saran Wrap because he had no condoms.
Sullivan says Doe One had a fantasy about a romance with Smith, who is nearly 30 years older than her, and he tried to discourage her. Eads says Smith "primed and groomed" Doe One into a relationship that eventually led to frequent sexual intercourse, oral copulation and sodomy.
Sullivan asked jurors to remember the accusations came up during a messy divorce between Smith and and Jane Doe's mother. The mother obtained a restraining order against Smith after reading in her daughter's journal about the first time he touched her. About the same time the mother was viewing the journal entry, calling police and contacting Child Welfare Services, Smith was allegedly having intercourse with then 14-year-old Doe One at his Myrtletown home.
The restraining order prevented Smith from seeing Doe One and her younger brothers, with the youngest boy being Smith's biological son. Eads said e-mails reveal Smith "was frequently telling (Doe One) to harass her mom, to get her so upset she will lash out, get Child Welfare Services involved, get Jane Doe into his life and into his home and live happily ever after."
In the e-mails, Smith raises the issue of masturbation and asks her "When was the last time you pleasured yourself?"
He also tells the girl "Kitten, you should know I will never love anyone more than you."
Smith called Doe One "Kitten" and she called him "Master."
Once he was under a restraining order and knew he was being investigated, Smith e-mailed Doe One and told her he was sorry she had misunderstood their relationship, that he only wanted to be a father to her.
"It broke her heart," Eads told the jury. "He's breaking up with her."

Eads said Smith wrote the break-up e-mail only because he knew investigators were "hot on his trail."
"He's trying to get out of a big hole he's dug for himself with a little e-mail," she said.
During the time he was barred from seeing the children, including Doe One, Smith began online research on porn sites, focusing mainly on topics such as "The First Time Daddy Touched Me," "Dating My Daughter," and "My Tiny Stepdaughter Sucks My Cock."
He also watched movies featuring father-daughter sex. But as Sullivan pointed out, his interests were not confined to that subject. Smith also was intrigued by gay porn sites and "seducing the postman."
Sullivan said that from Doe One's first interview with law enforcement to her trial testimony more than two years later, she kept adding details. She started with denying any sexual abuse and saying she had made up the journal entry her mother read. By the time she testified at trial, she was describing graphic accounts of sodomy.
She also said during trial that Smith had promised to marry her, though she had never told that to a single interviewer.
Sullivan ridiculed the account of Smith using Saran Wrap as a condom, saying that "is not a rational or logical incident she's describing." She also maintained that Doe, at age 11, would have had more than the "mild pain" she described after being penetrated by a Saran-wrapped penis.
Doe One testified she performed oral sex on Smith hundreds of times, and she always swallowed his ejaculate. Previously she had said this was because Smith told her to. At trial, she said "Good girls don't spit."
Sullivan criticized the police investigation, saying no sexual assault exam was performed on the teen, and no evidence was taken from the couch where Smith allegedly sat as the girl performed oral sex.
Eads responded that it had months since any sex acts occurred on the couch in Smith's restaurant, and by then the business had new owners. As for an exam, she said, even if the girl's vagina showed scarring it would "neither prove nor disprove" that the damage was caused by sex.
"The defendant would have you believe that all of this is a fantasy," Eads said. "Really?"
The prosecutor wondered whether Doe One's "fantasy" included having complete strangers interview her about her sex life, testifying at a preliminary hearing about intimate, embarrassing details, testifying before "a room full of strangers" during a trial.
"The sex acts the defendant performed on her shamed her," Eads said. Doe One also is ashamed of the way she treated her mother, and about admitting she communicated online with a "sexual predator" (an English man in his 30's.)
She told that man the only person she'd ever had sex with was Smith, Eads noted.
As for Jane Doe Two, her mother was a good friend of Doe One's mother. Doe Two, during the time the Smiths' divorce, came forth with an allegation that Smith molested her once when she spending the night with Doe One.
The 44-year-old Smith, a former substitute teacher, has been in custody since July 2017.
Jurors began deliberating about 4 p.m. today and are expected to return tomorrow morning to continue their discussions.
###
In other court news today, sentencing has been continued until next week for former Correctional Officer Cory Jordan Fisher Sr., who faces up to life in prison for molesting three young boys.
Judge Timothy Canning rescheduled the sentencing at the request of Deputy Conflict Counsel R.J. Loehner, who said the Probation Department mistakenly sent Fisher's probation report to the Public Defender's Office instead of the Conflict Counsel's Office, which represented Fisher during his trial. Loehner stood in today for former Deputy Counsel David Lee, who retired after completing the Fisher case.
The probation report includes a recommendation for the appropriate sentence, and judges generally follow the recommendation.
Fisher's estranged wife and two of his three molestation victims attended the hearing this morning. The prosecutor, Deputy District Attorney Stacey Eads, said the victims don't plan to address the court during sentencing, but instead have written letters she will read into the court record.
Fisher remains in custody, wearing the red jumpsuit that indicates he is segregated from the jail's general population.
###
Attorneys were ready to proceed this morning with the preliminary hearing of hit-and-run suspect Jeffrey Lee Tsarnas, but with no courtroom available the hearing was reset for mid-July.
Tsarnas, whose daughter Faith Tsarnas was killed by hit-and-run driver Marcia "Marcia" Kitchen, is accused of fleeing the scene after running over and injuring a woman on Fernbridge.
Jeffrey Tsarnas was in Judge Timothy Canning's court today with defense attorney Neal Sanders, who told the judge he was prepared for the three-hour hearing.
"We wanted to go forward today," Sanders said, adding he will now not have time until July. Deputy District Attorney Luke Bernthal agreed to a July 17 date, though he said he also was ready today.
The one attorney who disagreed was Patrik Griego, who represents the alleged victim in the case. He would have preferred a much earlier court date.
"We're not happy about the timing," Griego told the judge.
As of today three jury trials are in process, and other courtrooms have full criminal or civil calendars.
Tsarnas is not in custody.