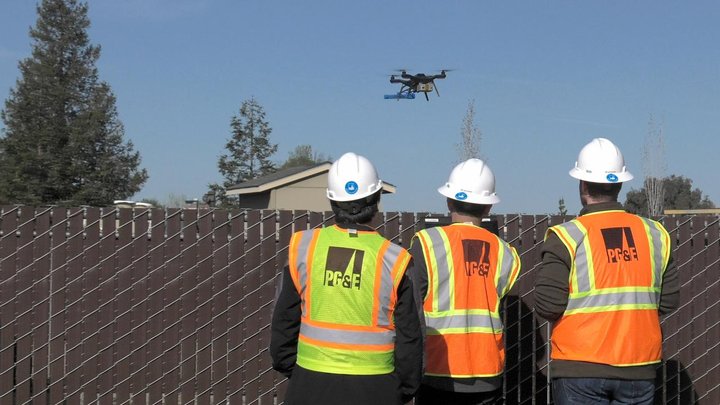 From PG&E:
Over the next few weeks, Pacific Gas and Electric Company (PG&E) contract crews will be working in Mendocino, Humboldt, Lake and Trinity Counties to conduct accelerated wildfire safety inspections of electric towers, poles and substations using drones and helicopters.

The aerial inspections will complement and further enhance visual inspections by gathering information from certain portions of the structures, like the top of the tower or pole or the end of the tower arms. In addition, for substations, helicopters will utilize Light Detection and Ranging (LiDAR) technology to gather additional data and photographs. These inspections are part of the company's wildfire safety efforts, implemented following the 2017 and 2018 wildfires as additional precautionary measures intended to further reduce wildfire risks.

Drone crews will fly Monday through Saturday typically between 7 a.m. and 4 p.m. and may need to access private property to complete this work. Contractors in the field will be wearing high-visibility safety vests and always carry photo identification cards. Vehicles will also have placards on dashboards.

Helicopter flights will typically occur between 9 a.m. and 5 p.m. at an altitude from ground of about 250 feet. Helicopters may hover in the same location for up to 10 minutes or may make repeat passes along the same set of lines to re-examine the equipment. Pilots will follow all safety standards and Federal Aviation Administration regulations.

Weather and other factors affecting safe working conditions may impact the work schedule. To ask questions or check for PG&E's presence, please email wildfiresafety@pge.com. Additional information is available at pge.com/wildfireinspections.

PG&E inspection crews are conducting accelerated inspections of approximately 50,000 transmission structures across more than 5,500 line miles and approximately 200 substations across the company's service area. This work is being done as part of the company's Community Wildfire Safety Program and is in addition to its routine inspections and maintenance programs. These safety inspections are taking place across PG&E's service area in locations that have been designated as at elevated or extreme risk of wildfire based on the California Public Utilities Commission (CPUC) High Fire-Threat District Map.

Community Wildfire Safety Program

PG&E's comprehensive Community Wildfire Safety Program includes real-time monitoring and intelligence capabilities, new and enhanced safety measures and a critical hardening of its electric system to strengthen the safety and resiliency of the electric grid to further reduce future wildfire risks. More information can be found at pge.com/wildfiresafety.