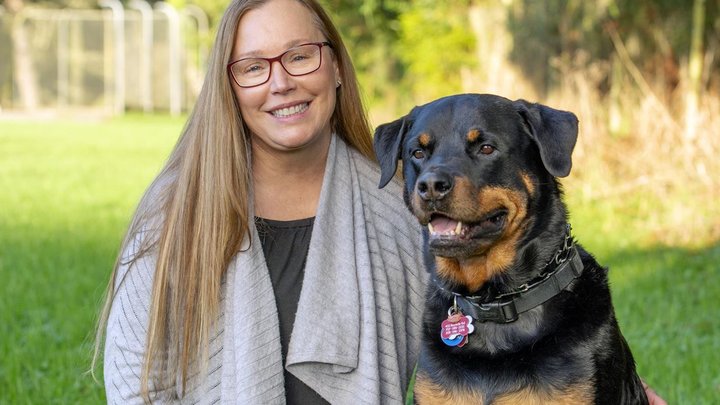 HSU Athletics Department:
After 25 seasons as head coach of the Humboldt State women's rowing team, Robin Meiggs has announced that she is retiring.

Patrick Hyland has been named interim head coach, and a national search for a head coach will begin immediately.

Coach Meiggs has enjoyed a remarkable career at Humboldt State, and is recognized as one of the University's most successful coaches. She helped grow the Rowing program from a club sport into a Division II powerhouse, and has since served as its first and only head coach. Over the years, the team has won two national championships and its student-athletes have excelled academically.

Meiggs says she is proud of the supportive culture and sense of family on the Crew team. She is also proud that she was able to promote gender equity and teach student-athletes to "use their voices" and speak up for themselves.

"This wasn't an easy decision," Meiggs says. "I have built great relationships with my students —we're like family—so it was very difficult to tell them I was leaving. This was a bittersweet and emotional decision to make, but they understand this is the right time for me.

"I want to thank my Assistant Coach Patrick Hyland, who has been with me every step of this amazing journey while at Humboldt State. I would also like to thank my family, especially my husband, who have supported my passion and have been my 'Super Fans' all these years. My success would not have been possible without them."

Meiggs will be officially honored at the home women's basketball game against Sonoma State Thursday, Nov. 21. Game time is 5:30 p.m.

Under Meiggs, HSU's rowing teams won the NCAA Division II National Championships in 2012 and 2014, and have finished third in the nation or better five times (2004, 2011, 2012, 2014, and 2015). She was named Collegiate Rowing Coaches Association "Coach of the Year" three times. (Looking ahead, Meiggs predicts an "amazing" upcoming season.)

"I've been inspired by all she has accomplished. It's an honor to have known her even for just a short time," says Humboldt President Tom Jackson, Jr. "Coach Meiggs has been a force for change on campus, and she has made a positive difference for thousands of people on campus and across the country. We all wish her the very best and want her to know that Humboldt is her home, and will always be her home."

Meiggs is a Humboldt alumna. She rowed for HSU when crew was a club sport and also coached the club team for three seasons.

During her tenure as head coach, Meiggs, who also teaches Kinesiology courses, has supported her teams and has been deeply committed to their academic success. Her program has a 93 percent graduation rate. She has also been instrumental in fundraising efforts for the Athletics Department.

In her 27 years at Humboldt, Meiggs has also been a member of the University Senate and served as Union President and Faculty Rights Chair of the HSU chapter of the California Faculty Association. She served on the NCAA Committee on Competitive Safeguards and Medical Aspects of Sports and the NCAA's Regional Advisory Committee and National Advisory Committee.

"I can't believe how much time has passed. Sometimes you love something so much that it doesn't feel like work, and that has been true for me," Meiggs says."Looking back, I'm so proud of the relationships and the culture we built, and of the academic successes of our students."

Career Highlights 2019— Crew captured its third straight Western Intercollegiate Rowing Association Championship team points trophy after advancing six boats to the Grand Finals. It was the most boats that progressed to the A Finals since 2011.

2016—The Lumberjacks qualified their Varsity 8 boat for the 2016 NCAA Championships as an at-large team, and competed for a fourth-place finish in the Eights Grand Final. This performance followed a remarkable showing at the Dad Vail Regatta, where both the Varsity 4s and Varsity 8s took third.

For the second straight year, senior Mariah Smith was awarded rowing's NCAA Elite 90 Award during the Championship's Student-Athlete Celebration Banquet, the award for the highest GPA amongst championship athletes. Smither and fellow senior Samantha Morford were named to the Division II Pocock All-America First and Second Team, respectively.

2015—HSU returned to the NCAA Championships and finished the season as team finalists. Junior Mariah Smither was given rowing's NCAA Elite 89 Award for the highest GPA among championship athletes, and a Capital One Academic All-America DII Third Team selection. Three Jacks were tabbed Collegiate Rowing Coaches Association (CRCA) Pocock All-America selections. Rowers Kayley Weber and Katrina Rehrer were First Team choices and Margaret Wilhelm was a Second Team pick.

2014—The National Champion Humboldt State rowing team picked up three Collegiate Rowing Coaches Association Division II Pocock All-Americans as Kayley Weber and Jamie Larrabee earned First Team and Maggie Wilhelm claimed Second Team status. Along with the trio of All-Americans, four Lumberjacks – Diana Hernandez, Lizzy Meisman, Katrina Rehrer and Mariah Smither – were announced as CRCA 2014 National Scholar-Athletes.

2013—Humboldt State' varsity four boat took claimed the second V4 event championship title in program history. With the team championship coming down to who would win the V8+ event, the Jacks surged past WWU for first place. Meiggs was selected to serve on the NCAA Division II Women's Rowing Committee.

2012—The Jacks took home their first-ever NCAA team championship, defeating seven-time National Champions Western Washington. Meiggs was also unanimously voted as the Northwest Collegiate Rowing Conference Coach of the Year in 2012 after leading her squad to an NCRC Championship.

2011—Meiggs led the Lumberjacks to a third-place finish at the NCAA Rowing Championships Meiggs won her first back-to-back Collegiate Rowing Coaches Association "Coach of the Year" awards.

2010— Among the program's best season, the team won the Western Intercollegiate Rowing Association (WIRA) Championship. The regatta is an All-Division (I, II & II) Championship and HSU is the first team to win the championship that isn't a Division I program. Katie Lepley was named to the 2010 Division II Pocock All-America team by the Collegiate Rowing Coaches Association (CRCA) and ten Humboldt State rowers earned CRCA National Scholar-Athlete recognition.

2004—Meiggs led the Women's 4+ to an NCAA National title. HSU finished second overall in the points standing.

2003—Meiggs led the women's 8+ to a third-place finish at their first-ever visit to the NCAA National Championships. 2

2001—Meiggs led the lightweights to the Western Intercollegiate Rowing Association Championships title for the third consecutive year. They won the Pacific Coast Rowing Championships in both the eight and four, as well. The lightweight novice four, the only other boat to advance to the grand finals at the WIRA Championships, finished third.