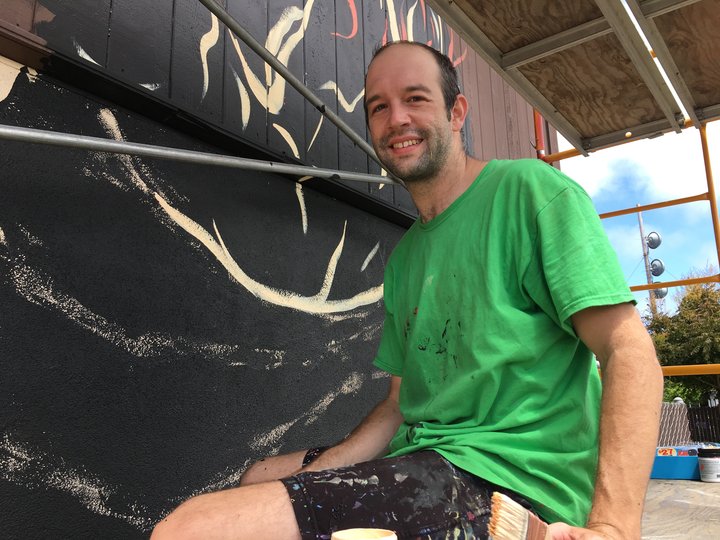 While the Eureka Street Art Festival is in full swing, one artist has just begun working. Eric Karbeling came all the way from Miami and had to join the fun a little late. Starting this morning, Karpeling has been painting the side of the Humboldt Bay Fire Station on Sixth and C Streets in Eureka.

Humboldt Bay Fire wanted something that incorporated fire and water into the design. Karbeling said the festival organizers chose him because they thought the fluidity of his style might work well for this concept.

"I just call it squiggles," Karbeling told the Outpost when asked to describe his unique style. "I need to name it."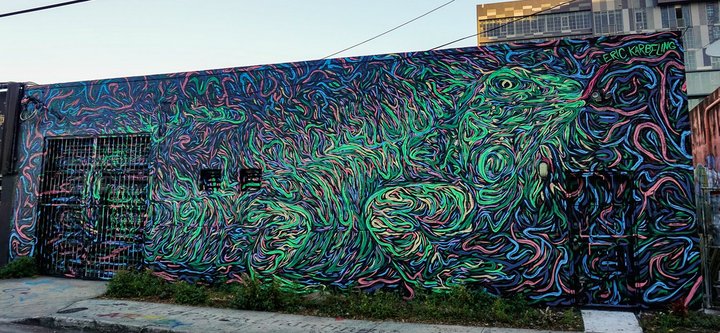 Originally from Maryland, Karbeling moved to Miami for college. At the University of Miami Karbeling studied graphic design — something he still does as his primary occupation. During his time in college he would design and make the posters for his band. Karbeling said that making the posters was his favorite part of being in a band and he decided to pursue art more seriously.
About three years ago Karbeling started painting murals, first by painting one on the wall of his own apartment. Friends who saw his work then asked him to paint pieces in their apartments. Karbeling fell in love with this form of expression and, with an interest in street art, decided to start taking his work outdoors.

He began painting on abandoned buildings that were scheduled for demolition. Karbeling told the Outpost that this was a great way to get practice and also not get in trouble for painting illegally. Karbeling said he didn't mind painting things he knew would soon be torn down. He cares more about the process than the longevity of a piece.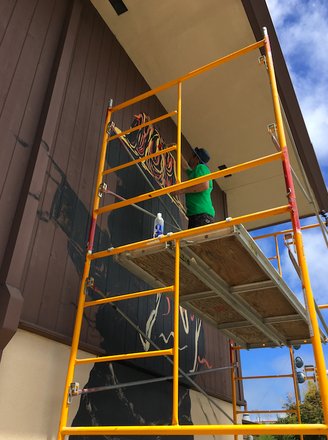 "That's an awesome thing about street art — you might not get to see it again," Karbeling said. "Some people might get mad when their stuff gets painted over. But I just think that's part of it. That's kind of what makes it special."

Karbeling has participated in a few other art festivals in Miami, Memphis and Kansas City. He is excited to be a part of the Eureka Street Art Festival and work alongside so many talented international and local artists. So far, Karbeling says he's really impressed with the other artists' work.
He has never been to the area and Karbeling is also hoping he'll get enough time off from painting to get to know Eureka a little. Karbeling said that as one of the visiting artists, he was humbled to be asked paint one of the city's fire stations.

" [A fire station] is something that's a big part of any community," Karbeling told the Outpost. "I'm a little nervous though. It has to be good."

You can watch Karpeling working during the rest of the festival, which ends with a block party this Saturday.

You can see more of Karpeling's work on his website, or by following him on Instagram @erickarbeling.

###