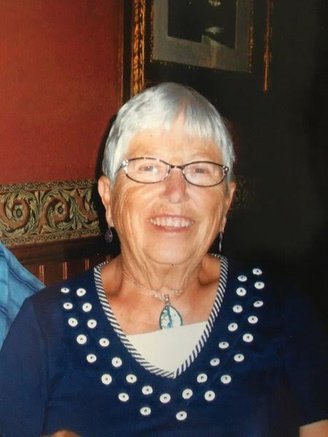 Virginia L. Orlandi was born July 27, 1938 in a log cabin in the small mining town of Bonanza, Colorado and passed away on July 9, 2019 in Fortuna.
Virginia graduated from Arcata High School in 1956. She married Ron Orlandi on July 30, 1961 and they were together for almost 57 years until Ron's passing in June 2018. She worked at Bank of America for almost 30 years before retiring in 1998. She enjoyed working there and all the people she met. The retired B of A ladies had a monthly luncheon which she attended until her health prevented her from going.
She was also a life member of Soroptimist of Arcata. She spent many happy years as a club member. From the annual Spring Luncheon to the Scholarship Tea, Virginia was willing to help out to make the events a success.
For many years Ron and Virginia made their semi-annual road trips to Idaho to see Steven and his family. They made many friends while visiting.
One of Virginia's favorite hobbies was gardening. She enjoyed having her yard in full bloom throughout the year. Her roses, dahlias, geraniums, and begonias were a source of great pride for her. Her yard was always the most cared for in the neighborhood.
Her other favorite hobby was decorating for all the different holidays and changing seasons both inside the house and out. Many visitors will remember the extravagant Christmas decorations that they put up each year. It was always a treat for all the family and friends, young and old, to come over and check out the many different decorations. Nothing was left undecorated.
Virginia was lovingly cared for by Ron as her Alzheimers disease progressed. He was the ultimate care giver for her. Ron took over many of the daily chores as she was no longer able to do them. Finally, in May of 2018, Ron was no longer able to give her the care she needed and the decision to move into Sequoia Springs Assisted Living in Fortuna was made. They both moved there, with Virginia in the memory care section and Ron in the assisted living section. They were still together every day, just living in different sections. She made many friends in the memory care section, but she always made friends wherever she went.
Virginia is survived by her daughter, Pam Orlandi of Fortuna, CA and her son, Steven (Tamara) Orlandi of Hayden, ID. Also her honorary daughter, Shelly (Rob) Lyell of McKinleyville, CA. Her grandchildren include JR (Marissa) Ambrosini, Caelyn and Kennan Orlandi, Natalie, Coco, and Mitchell Lyell, and Trisha (JJ) Cruz. and great granddaughters Hayden Tostie, Hallie and Helaina Cruz. Virginia is also survived by her brother and sister in law, John and Lynn Raymond of McKinleyville, CA. And her niece Lisa (Stuart) Dickey and nephew Gregg (Nadine) Raymond and their families. She is also survived by many other relatives and friends.
Virginia was preceded in death by Ron, her parents, Hugh and Jessie Raymond, her brother, Hugh Raymond, Jr and her in laws, Nello and Eva Orlandi.
Our dear Mother, Sister, Gram, Auntie and friend will be forever missed.
We, as a family, would like to thank all of the Sequoia Springs staff and Hospice for their loving care and attention that was given to Virginia.
Friends and family are invited to her Celebration of Life on Saturday, August 17 from 1-3 p.m. at St Marys Leavey Hall 1690 Janes Rd., Arcata. Donations in Virginia's memory may be sent to Hospice of Humboldt 3327 Timber Fall Ct, Eureka, CA 95501 or Walk to End Alzheimers (Alzheimers Association) 2401 Redwood Way, Fortuna, CA 95540.
# # #
The obituary above was submitted by Virginia's loved ones. The `runs obituaries of Humboldt County residents at no charge. See guidelines here.