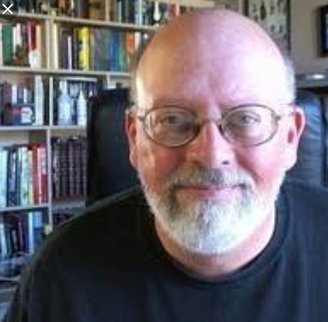 Lester Brown Kooyman, October 30, 1953 - August 13, 2019, son of Earl and Peggy Kooyman, cherished husband of Wally Schwarz, father of Claire Kooyman, brother of Judy Pizzuto, has left us.

Lester was born in Merced to Earl and Peggy Kooyman. In 1954, the family moved to Eureka. Lester was very involved from an early age with music. He loved to play his record collection all the time. Eventually Lester and his friends opened their own music store, selling vinyl records.
Lester attended HSU and received a degree in political science. His true passion was computing. He worked for National Advanced Systems, Amdahl Computer and several startup companies, all using his excellent skills in computer programming.
In 1983 he met his husband, Wally Schwarz, and they moved in together shortly after that. He lived in San Mateo with Wally and his cat, Eureka, for many years. Eventually they moved to the Palm Springs area and enjoyed the sunshine, and warmth of the area. While there, Lester and Wally got heavily involved in the rescue of beagles, saving more than 250 dogs with the help of BeaglesandBuddies.com (B&B) in Apple Valley, California. Adding a few beagles along the way (Suze, Ollie, and Maxx), and an abandoned litter of four kittens (Paren, Gandalf, Snoopy, and Max).
Utilitizing his intensive computer knowledge of Smalltalk, Lester became an engineer for Cincom Systems of Cincinnati, enhancing the company's VisualSmalltalk product. He worked for Cincom for 10 years, being promoted to Senior Software Engineer, turning those pesky 0's and 1's on and off as necessary.
In 2011, Lester desired to return to Eureka, to live in the family home and be around family and friends. He and Wally continued to help B&B remotely, and adopted more dogs. Today only Paren, Angel and Rose remain, and they dearly miss their poppa.
His doctors at UCSF [Gasper and Immerman (vascular), Cornett (hematology)] and at Alta Bates Summit [Dr. Chi (acute recovery)] and the nurses (Yonelle, Yvonne, Mary) and his PT/OT team of David Fong and Poornima Kamath were instrumental in helping him have some recovery. I can not thank them enough.
We will always remember his quick wit, love of life, his pets, and his annual viewing of Perseid meteor showers. So many will miss him.
Tax deductible donations can be made his name to Beagles and Buddies, 23430 CA-18, Apple Valley, CA 92307, (626) 444-9664.
###
The obituary above was submitted on behalf of Les Kooyman's family. The Lost Coast Outpost runs obituaries of Humboldt County residents at no charge. See guidelines here.