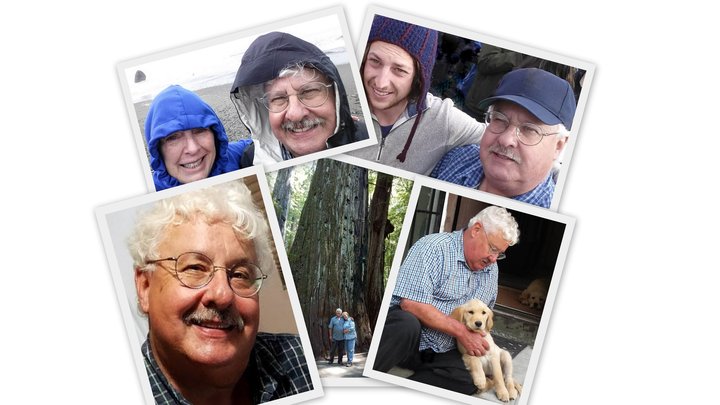 Robert "Bob" J. Beland was tragically taken from his family and friends in Eureka at 10:18 p.m. on June 28, 2019, by a drunk driver who drove a truck through Bob's bedroom and house while he and his wife slept.
Bob was 64 years old. He was born on August 30, 1954, in Meriden, Connecticut.
Bob's family moved to Southern California when he was three. He spent part of his early years in Lancaster and Chatsworth. He loved the desert, searching for anything nature provided: cacti, rocks, lizards and scorpions, etc. The family then moved to Citrus Heights when Bob was 12. He and his younger brother, Keith, joined the Sea Broncs, a year-round swim team in Fair Oaks. In October 1971, Elizabeth "Liz" Martin joined the swim team. Bob and Liz both loved swimming and continued to swim their entire lives. In less than a year after they met, they began dating. Bob had a great sense of humor that not just Liz loved. They married Feb. 20, 1982 in Carmichael, California.
Bob graduated from San Juan High School in '72, then joined the six-month volunteer program known as the Ecology Corps (now called California Conservation Corps), which provided room and board in Angels Camp, California. He had a memorable and enjoyable experience as a firefighter, clearing brush, installing snow chains on vehicles of distressed and stranded drivers in snow storms in and around Angels Camp and other outdoor duties pertaining to the mountainous area. He didn't want the job to end. After completion of the program, he joined the US Air Force. He spent the majority of his years at Nellis AFB in Las Vegas as a Weapons Mechanic and reached the rank of Sergeant. It was during this time he became interested in locksmithing. He enjoyed the puzzles of lock mechanisms and began his education with correspondence courses by mail. (It was 1976).
He was honorably discharged in 1977 as a Vietnam-era USAF Veteran. Not long after, he found his first job as an apprentice locksmith in Sacramento. When Liz moved to Merced, California, to continue her college education, Bob moved there as well. He finished his apprenticeship in a tiny Merced lockshop, eventually becoming their main locksmith. The two decided they liked small towns and also loved backpacking around those areas. They moved a few times to finish their college educations. Bob worked as a locksmith in Davis while attending the Yuba College extension campus in Woodland, and also in Chico. He became the "go-to" master locksmith in any business he worked, being extremely skilled, knowledgeable, and willing to tackle difficult lock jobs. Opening safes became his passion and later his master skill.
In 1984, Bob and Liz moved to Humboldt County for Bob to attend Humboldt State University. He worked for Northcoast Lock in Eureka while attending HSU. They both fell in love with the area and decided to make it their permanent home. In 1989 they took the leap to business ownership. They built their business from the ground up, named it Humboldt Lock & Safe, and opened its doors on November 1, 1989. It was open six days a week with emergency after hours call. It became their first baby. It was soon eclipsed by the birth of their one and only child, Dylan, in 1991. Shortly after, Bob discontinued Saturday hours and after hours calls. Being a dad required more time and energy and he didn't want to take time away from his family. He and Dylan spent many hours hiking in forests, enjoying nature and turning over stones and logs searching for critters and insects. He was extremely proud of his son, and had hoped he'd become a locksmith. However, Dylan didn't choose his dad's field. Regardless, Bob was proud to have a son to depend on for carpentry, electrical, welding and other skills he didn't have that Dylan provided. They also shared an appreciation of gift cards to Pierson's for their endless need of tools.
Bob was a successful locksmith of 43 years and proud small business owner of Humboldt Lock & Safe for nearly 30 years. He and Liz eventually purchased their own business property on West Harris Street in Eureka. He was well known and respected for his skills and well-liked by those he came in contact with in the Humboldt County community through his business. He was friendly and funny, helpful to those who just needed lock advice, and known to provide locksmith services gratis. He also loved chatting with Veterans who came to the shop, and had a special affinity for the elderly. He was also known for his beacon of beautiful white curly hair, which many commented on and wanted to touch, to his delight.
Bob was a gentle soul with a love for nature and spent every Saturday and Sunday mornings in his quest to find agates and special beautiful rocks on his favorite beaches. He loved to find heart-shaped rocks for his love. One of his legacies to his family is an immense collection of agates, colorful rocks in a rainbow of colors, and heart-shaped rocks just for Liz.
He is preceded in death by his parents, Joseph and Dolores Beland, and oldest brother Mark Beland. He is survived by his devoted wife of 37 years, Elizabeth Martin; his cherished son Dylan Beland and Dylan's adored fiancée, Hilary Eisma; his last-remaining sibling he held so dearly, Keith Beland, and his wife, Deanna; and his treasured golden retrievers. He is also survived by his many relatives and relatives-in-law too numerous to mention in total, but to name a few: Jesse and Amber Beland (sons Vaughn and Logan), Makayla Beland, Megan Martinez (daughter Alaya), Alice Martin, Mary and Jeffrey Franz (daughters Marin and Marisa), and Kathy and Jim Warburton (sons Hunter and Colton).
With deepest gratitude, we wish to thank everyone who has assisted our family during this difficult time. If anyone has not been acknowledged, it is unintentional on our part. Thank you to: The amazing and compassionate Humboldt Hill community of neighbors, some of whom we'd never met, who heard the crash, came running in their PJs to our house and helped our family in every way imaginable. They also physically detained the hit-and-run drunk driver and held him down until the CHP arrived. We are grateful for the first responders who cared for Liz and Bob at the scene, secured the area, provided emergency safety for all by shutting off water, gas and electricity to the house, arrested the drunk driver, and performed other numerous safety duties for the neighborhood. The same fantastic neighbors and emergency personnel worked through the wee hours of the morning to remove the truck and a trailer (which was originally parked in the driveway) from inside the house, then boarded up the side of the house and the front window for security. Everyone's selflessness, kindness and compassion will never be forgotten and will always be remembered with great appreciation.
Those who knew Bob understood he was a private man, so per Bob's wishes there will be no funeral or memorial service. There will be a private family memorial and scattering of Bob's ashes at a later date. No gifts or flowers are necessary. The family wishes Bob to be honored in a memorable way:
Please don't drink and drive.
Please be a designated driver.
Please call or text a relative, friend, cab or Uber for a ride if you've had too much to drink.
Please call 911 to report a friend is driving drunk. It may be difficult or uncomfortable, but a funeral is worse.
Please take the keys out of the hand of a drunk who wants to drive, even if it's forcefully. You'll save a life, possibly your own.
If you'd like to make donations, please make one to your charity of choice, the GoFundMe for Dylan Beland, or to an ocean/beach conservation organization in Bob's memory.
###
The obituary above was submitted on behalf of Bob Beland's family. The Lost Coast Outpost runs obituaries of Humboldt County residents at no charge. See guidelines here.