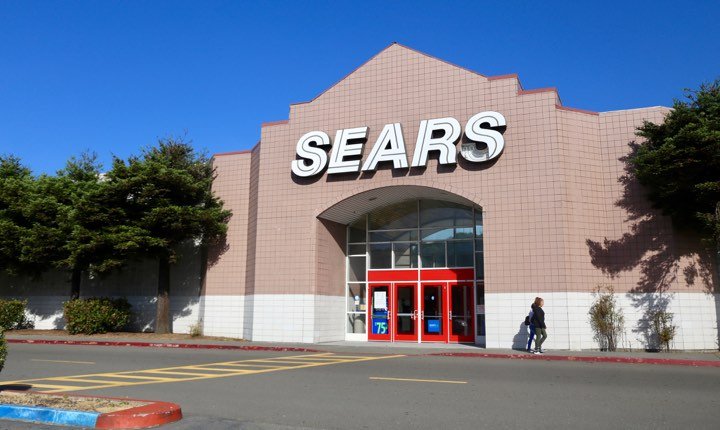 ###

UPDATE, 2:45 p.m.: The Sears corporate office in Illinois has sent us the following statement:
After careful review, we have made the difficult but necessary decision to close the Sears store in Eureka, Calif. A liquidation sale is expected to begin later this month and the store is planned to close between late October and late November. As we promised, all eligible associates will be offered the same number of weeks of severance as offered to employees of Sears Holdings Corporation prior to that company's Chapter 11 filing in October 2018. We will continue to evaluate our network of Sears and Kmart stores and cannot rule out additional store closures in the near term. Our goal remains to return the company to profitability and preserve as many jobs as possible in the communities we serve.
###
The word on the street is that the Sears store in the Bayshore Mall will close its doors next month, and we are pretty confident that that word is correct.
Here's what we know.
An employee of the store tells the Outpost that she and her colleagues were informed of the upcoming closure of the store on Thursday. She said they were told that workers would soon be laid off, and that liquidation of the store's inventory would begin on Sept. 3.
Also: Sears' corporate parent, "Transform SR LLC" — a creature of the hedge fund that acquired Sears out of bankruptcy earlier this year — is now advertising temporary "STORE SHUTDOWN" jobs positions at the cashier's desks and in the warehouse.
Here's what we don't have: An official statement. The media contact listed on the Sears Corporate website is apparently on vacation, and the person filling in for him didn't answer his phone all day Friday, nor this morning. Sears had announced a wave of store closures earlier this month, and Eureka was not among them. But liquidation sales at those stores are already underway, and so the Eureka store closure must either be a standalone event or part of a wave of closures yet to be announced.
The Sears Holding Corporation — the previous corporate owner of Sears and KMart stores — filed for bankruptcy in October 2018. It was acquired by its former chief executive officer, Eddie Lampert. The old Sears has since filed a lawsuit against Lampert and U.S. Treasury Secretary Steven Mnuchin — Lampert's personal friend and a former member of its board of directors — alleging that Lampert squirreled away billions of dollars in company assets in the runup to bankruptcy.
Eureka's KMart store closed in October 2017.