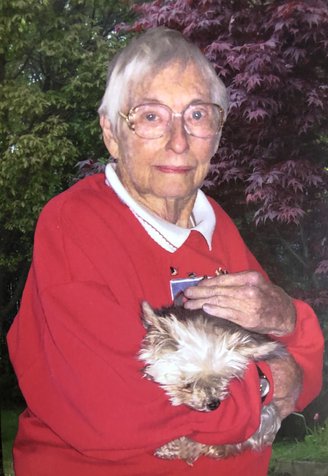 Long time Hydesville resident Barbara Hill passed away Aug. 5, 2019 and is now with her Lord and savior.

Barbara Patricia Hill was born March 16, 1928 at the old General Hospital in Eureka. Her parents were Edward Everett Hill and Hazel Dell (Anderson) Hill.
She attended Fortuna Elementary School for the 1st and 2nd grade, and then the family moved to Hydesville. Her teacher was Mrs. Sweazey. Barbara had many memories of living on the ranch, riding horses and having lots of acres to roam. She had a collection of miniature horses which she was so proud of.
Barbara graduated Fortuna Union High School in 1946. She also graduated from John Brown University in Siloam Spring Arkansas and obtained her master's degree from Humboldt State University.
Barbara began teaching at the Hydesville Grammar School and taught there for 12 years in the middle grades. She then accepted a job at Eureka City Schools as a reading specialist at the high school. This teaching assignment last 19 years until her retirement.
She continued teaching Bible studies for most of her life at the Hydesville Church and at Timber Ridge in Eureka. She had an extensive library of Bible study books.
Barbara had dialysis treatment for 19 years due to polycystic kidneys. When she could no longer drive, she moved to Timber Ridge so she could be closer to the dialysis unit. She made many friends there and was very grateful for her special connection with her neighbor, Skye.
She loved to cook and raised a huge garden every year, canning fruits and vegetables for the winter.
She was a cook at Triumphant Life Camp and at the church camp at Pamplin Grove in the early days of the camp. Barbara also help in building the present-day Triumphant Life Camp above Bridgeville.
Barbara hosted a July 4th picnic at her cabin in Little Golden Gate, near Bridgeville, for many years.
When you would ask Barbara how old she was she'd say, "the same as Mickey Mouse." She received many Mickey Mouse gifts through the years to add to her collection.
She had a love for Christian music which led to her being choir director for the Hydesville and Loleta Community churches for many years.
Barbara had a talent for sewing and made aprons for a while to sell to different companies. She loved her McDonalds coffee and of course her dog always got an ice cream cone while there.
You didn't want to get behind Barbara on a two-lane road as she was the slowest driver on the road!
Barbara had a strong faith in the Lord and a positive attitude until the end. She called relatives and friends and told them that she was ready and not afraid to go meet her Savior. She passed away peacefully on the morning of Aug. 5 at 91 years old. She was a great friend to many people.
In heaven, Barbara will join her brother Edward J. Hill and sister Virginia Bornemann, her mother Hazel, and her father Edward.
She is survived by nieces and nephews Daniel Hill, Mark Hill, Becky (Hill) Gallup, of Hydesville, Stephen Hill, of Ontario Oregon, and Barbara Clare (Bornemann) Boswell of Lafayette, Colorado, as well as longtime family friends Paula McHenry and Kay Chapman of Hydesville.
Graveside services will be held at the Hydesville IOOF Cemetery on Wednesday, Aug. 21, at 11 a.m.
###
The obituary above was submitted on behalf of Barbara Hill's family. The Lost Coast Outpost runs obituaries of Humboldt County residents at no charge. See guidelines here.