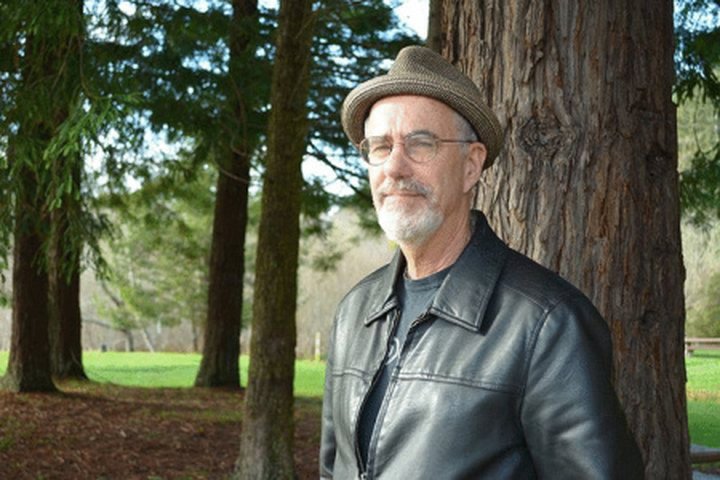 PREVIOUSLY:

###
The city of Eureka's search for an official poet laureate has ended, and it has ended right where you probably expected it to end.
At yesterday's meeting of the city's Arts and Culture commission, Leslie Castellano and Kristi Patterson announced that Eureka's David Holper — a CR English instructor and longtime local writer or poetry and fiction — has been chosen to represent the city as its inaugural poet laureate.
Holper has published two books of poetry with another on the way, and according to his website he's working on a series of books that will offer lots of practical advice to new writers — presumably a distillation of his 30 years spent teaching creative writing. He has published stories in Grand Street, the New Virginia Review and Callaloo — prestigious journals, all — among others.
"I am thrilled for Eureka to have someone in this role who is as thoughtful and quietly profound as David," Castellano told the Outpost this morning. "I look forward to seeing what he brings forth in the upcoming year."
Holper was chosen from among more than a dozen applicants by an ad hoc panel of local writers, according to Castellano. He will serve in the position for one year. Though the panel had expected to choose a youth poet laureate at the same time, that was apparently put on hold due to a dearth of applications.
At the commission meeting yesterday, Holper said that he was honored to be chosen and said that he has proposed three different projects in the upcoming year, including the compilation of a directory of published poets within the city.

Want a taste of his work? Here's a poem that Holper has graciously allowed the Outpost to share:
Hiking the Skunk Cabbage Trail
We go as gift to one another,
on our anniversary: we last hiked this way
nearly twenty years before. Now, a little older

a little slower, we start late,

with no mind to the eight mile trip
that lies before us. We eagerly wend our way
up the valley. July is almost over
and the chrome yellow flowers
of the skunk cabbage are passed.
The light is as green as memory
under the giant Sitka spruce:
talking of building the trail
talking of our life together. Evidence
of logging is everywhere
we look. Now red alder
has filled in the gaps left by the fallen
redwoods. Then the climb begins:
first the switchbacks up the valley wall;
later, the ramp that leads over the ridge,
delivering us after a long stretch
on Gold Bluff's Beach. There,
you take off your shoes, your socks,
your pants and wade out into the waters.
As far as the eye can see, there is no one
to watch this baptism. Nor any need for any eye
except mine. For this, my love, is the gift
of what time in all its slow certitude
has no sway.
— Originally published in Third Wednesday, May 2012