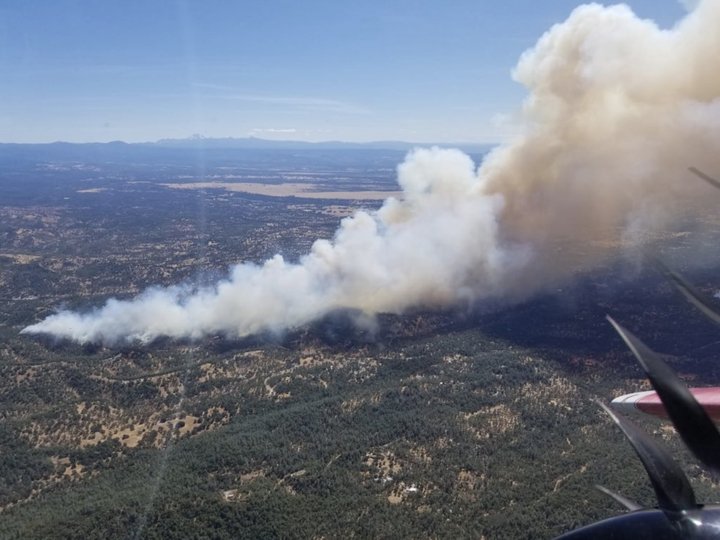 ###
UPDATE, 4:15 p.m.: From the Shasta County Sheriff's Office:
Update on the Mountain Fire burning in the area of Jones Valley and Bella Vista (Shasta County) CA. The fire has burned over 600 acres per Cal FIRE Shasta-Trinity Unit, 1,110 homes/structures threatened and approximately 3,885 residents evacuated. No injuries reported at this time. These numbers are very fluid and subject to change.

Evacuation Center located at Crosspointe Community Church, 2960 Hartnell Avenue, Redding, CA.

For assistance with animals, call SHASCOM non-emergency dispatch line (530) 245-6540.

Road closures in place:

Hwy 299 between Deschutes and Old Oregon Trail
Kitty Hawk at Bear Mountain Road
Bear Mountain Road at Dry Creek
Bear Mountain Road at Old Oregon Trail
Old Oregon Trail at Oasis
###
A fast-spreading wildfire raging northeast of Redding is estimated to have already burned approximately 600 acres since it began at around 11 a.m. on Thursday.
Firefighters and air tankers are battling the blaze, dubbed the Mountain Fire, which is centered in the Jones Valley area near Dry Creek Road and Bear Mountain Road. Crews have yet to establish any containment.
The Shasta County Sheriff's Office is providing up-to-the-minute information on its Twitter account and lists the following roads as having evacuations underway: Dry Creek Road, Jones Valley Road, Elk Trail East and West, Christian Way, Driftwood Trail, Highview Trail, Scotts Trail and Marty Road west of Bear Mountain Road, according to the Shasta County Sheriff's Office.
Please see important #MountainFire road closure information below. https://t.co/j4Gj4AnnUG

— CAL FIRE (@CAL_FIRE) August 22, 2019
Shasta College's campus on Old Oregon Trail has been evacuated. Highway 299 is also closed in that area.

An evacuation center for displaced residents has been setup at Crosspointe Community Church at 2960 Hartnell Avenue.
#MountainFire - ATTENTION! EVACUATION CENTER HAS BEEN MOVED TO CROSSPOINTE COMMUNITY CHURCH located at 2960 Hartnell Road Redding, Ca.

Shasta College Campus is closed effective immediately!

— Shasta Co. Sheriff (@ShastaSheriff) August 22, 2019
#MountainFire off Bear Mountain Road and Dry Creek Road, north of Bella Vista in Shasta County is 200 acres. pic.twitter.com/LkuQsvek7V

— CAL FIRE (@CAL_FIRE) August 22, 2019