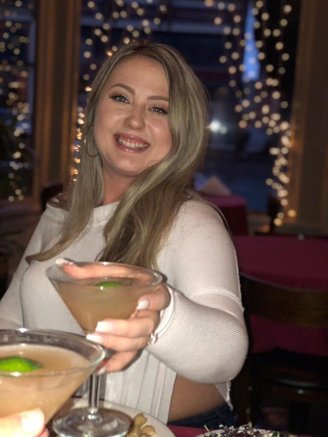 Elizabeth Lauren Boase was born at 2:55 a.m. May 16, 1996, just as her grandmother had predicted. She was vibrant and beautiful, but most of all she was kind. She was the person who could make you feel better about yourself and the world just by being near her. She lit up any room she was in with her radiance.
Her passing on August 15, 2019 was a very sudden and unexpected event. She is survived by her parents, Robert Boase and Sarah Boltzen, along with her siblings Evan Boase and Tessa Paul, as well as her beautiful baby girl Scarlett Caudill.
She was a natural Princess. She loved to dress up, she always looked beautiful, but it was her buoyant, outgoing personality that defined her. She was a cheerleader in high school and in life as well. If she saw someone needed help, she helped. If she saw somebody needed to be stood up and talked to, she did that too. She had an infamous eye roll, she never left any doubt about what she really thought. She was a California girl at heart, even when she went to live a few years with her dad in Wyoming, she wore flip flops to the bus in zero degree weather.
When Elizabeth loved she loved HARD. She loved her friends and family, and everybody she came in contact with it seemed. Elizabeth and her crew often enjoyed traveling to music festivals, including Snowglobe and Outside Lands, thriving on the excitement and creativity. She liked to work, and she volunteered as well, at Tricounties Independent Living where she could help disadvantaged people.
Elizabeth had an edgy wit, a quick tongue, a keen sense of observation, and a huge appetite for life. She loved to cook. ("Daddy! How do I make gravy?") She loved wine — at Santa Barbara City College she majored in winemaking — and she loved barbecues. Her ambition in life was to be an aesthetician, a specialist in skin care, so she could bring out the beauty in others and to be the best Mother she could be.
She was a wonderful mother to Scarlett ("Scarla," as Elizabeth called her), her two-and-a-half year old daughter.
On August 15, 2019, she left behind her heartbroken mother Sarah and her grieving father Rob, her sweet baby girl Scarlett, sister Tessa and her brother Evan, as well as a village of people whose lives were touched and forever changed by her giving heart, her warm affection, and her spontaneous, infectious joy.
She was our sunshine. Without her there is a little less sunshine in our lives. She will be missed by all who loved her.
###
The obituary above was submitted on behalf of Elizabeth Boase's family. The Lost Coast Outpost runs obituaries of Humboldt County residents at no charge. See guidelines here.