PREVIOUSLY:

###
A Hoopa man suspected of firing several rounds into his neighbor's mobile home, wounding him twice, has been held to answer on charges of attempted murder and shooting into an inhabited dwelling.
This morning Judge Larry Killoran, after hearing testimony from sheriff's deputies, ruled there was enough evidence to warrant a trial for 30-year-old Joseph Anthony Caywood.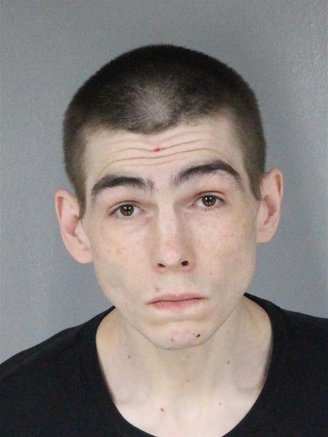 Caywood is charged with shooting Leonard Eugene Abbott as Abbott lay in bed about 10 p.m. March 28 in his mobile home on Pine Creek Road. Abbott, 57, was found lying in the roadway with bullet wounds in his abdomen and right arm.
The most incriminating testimony today came from Sheriff's Deputy Kellen Brown, who interviewed a woman who was in the neighborhood visiting her mother when the shooting occurred.
The woman told Brown she arrived at her mother's home for dinner about 7 p.m. on March 28. She was parking her vehicle when Caywood "came running out and asked if she'd seen his dogs," Brown testified under questioning by Deputy District Attorney Luke Bernthal.
The woman described Caywood as wearing brown socks but no shoes, along with a tomahawk strapped to his hip. No other clothing was mentioned.
Caywood told the witness he needed his dogs "because they were his family," Brown said.
About two hours and 40 minutes later, the woman reportedly heard Caywood outside yelling "I'm going to kill you, Lenny!"
Then, within three to five minutes, she heard five or six gunshots. The woman told family members to take cover and then called the Hoopa Tribal Police. It was a tribal officer who was first on the scene, finding Abbott lying in the road.
Shortly afterward sheriff's Deputy Tismil Matilton arrived. He spoke with Abbott, who was still conscious.
"He said he was shot," Matilton testified this morning. "He said Joseph Caywood shot him."
Asked about Abbott's injuries, the deputy said he saw "a puncture wound on the right side of his lower chest area, or abdomen, and another wound on the back of his right arm."
The bullet that struck Abbott's arm passed through, the deputy said. The bullet in his abdomen was removed later by a surgeon at Mad River Community Hospital.
Matilton saw coagulated blood on the floor and mattress in Abbott's mobile home. There were bullet holes in the wall above the bed. By this time it was dark and the deputy was using a flashlight to look for evidence. No shell casings were found within 15 feet of the mobile home.
According to testimony, Caywood and Abbott had argued frequently in the past.
During closing arguments today, Bernthal said evidence shows Caywood had an intent to kill Abbott when he fired bullets into his home and wounded him. Abbott suffered great bodily injury (one of the special allegations in the case) as a result, the prosecutor said.
Deputy Public Defender David Celli, representing Caywood, noted no one saw the shooting and Caywood was identified only by his voice. Also, the shooter had no way of knowing whether Abbott was in the home, Celli said.
"(Abbott) was not heard or seen until he was found in the road," Celli said. "There has to be some kind of knowledge that a person was there."
"Mr. Caywood knew Mr. Abbott was inside," Bernthal responded. "He was threatening to kill Mr. Abbott and a few minutes later shots were fired."
Judge Killoran, citing the "pretty low" standard used at preliminary hearings, said he believed there was probable cause the crimes had been committed and Caywood was guilty. He held Caywood to answer and set his arraignment for Sept. 9.
Caywood was arrested in the Eureka area six days after the shooting. He remains in custody.
###
CORRECTION: We got a couple of names wrong in this story. They've been corrected. Apologies.