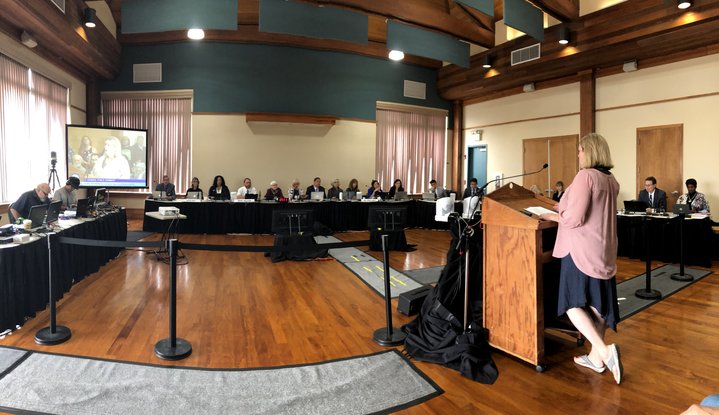 After a long afternoon of public testimony, which included harrowing video footage of near-collisions at the Indianola cutoff, the California Coastal Commission this evening approved a long-planned renovation project from the California Department of Transportation (Caltrans) for the six-mile stretch of Highway 101 between Eureka and Arcata.
Voting 10-1, with Commissioner Sara Aminzadeh casting the lone dissenting vote, the commission approved the project, but only after adding some conditions designed to expedite sea-level rise planning, which the commissioners agreed is urgently needed on this road in particular.
Executive Director John Ainsworth and Chair Dayna Bochco both referred to this section of highway as "ground zero" for sea-level rise, noting that the land around Humboldt Bay is subsiding as the oceans rise.
But ultimately the commission decided that safety concerns are too pressing to hold out for more comprehensive (meaning expensive and bureaucratically complex) planning measures, such as building a causeway or embarking on managed retreat to higher ground for the businesses and infrastructure now sitting on reclaimed tidelands.
Construction of the "corridor improvement" project — which will include an undercrossing at Indianola, a half-signal at Airport Road and closure of the other four median crossings, among other elements — is scheduled to begin next year and last into 2026.
During this, day one of a three-day meeting at Eureka's Wharfinger Building, numerous public speakers told the commission that safety improvements are desperately needed on that section of highway, which currently includes six uncontrolled intersections that have seen numerous fatal accidents over the years.
Caltrans Project Manager Jeff Pimentel was in the hot seat for much of the afternoon and evening, answering questions from commissioners about the various details of the project.
Commission staff had recommended approval with a number of conditions for Caltrans, including the development of a sea-level adaptation plan by 2030 — or sooner if the highway gets flooded four times in a 12-month period. Another condition: the removal of 179 acres of invasive spartina grass from Indian Island, aka Tuluwot.
Six years ago the Coastal Commission ordered all billboards along the corridor removed "to the extent possible" as a condition of approval. Pimentel said that's been accomplished.

"We've removed 17 billboards," he told the commission. A dozen billboards are still standing along that stretch, though Pimentel said, "Only four remain that impede views of the bay." Caltrans offered to buy them from Outfront Media, the company that owns and manages the billboards, but the offers were refused.

During public comment a number of people stressed the hazards of the uncontrolled intersections, particularly at Indianola.
J. Bonner, the owner of J's RV Center, one of several businesses located along the Indianola cutoff, called that highway crossing "the most unsafe, unruly intersection you can cross anywhere in this county."
Dan Harper, who works at Mid-City Motor World, said he crosses Indianola three to five times per day. "That intersection is a death trap that is unsafe at any speed," he said.
A man named Thomas Stewart played a video he'd edited together showing a series of dangerously close calls at Indianola, with cross traffic missing cyclists and other vehicles by mere feet. His voice caught in his throat as he told the commission that his friend died in that intersection, and he urged them to "please fix this."
Other speakers focused on environmental concerns. Ralph Faust, a Bayside resident and former Humboldt County planning commissioner, said that Caltrans' proposed adaptation solution for sea-level rise — namely, reinforcing and raising the existing dikes — was equivalent to building "a bathtub ring around the bay."
This short-term fix, Faust argued, would deepen the bay, drowning sensitive marine species such as eelgrass, which can only survive at specific depths.
"Almost 50 percent of the eelgrass that remains in California is in Humboldt Bay," Faust said. The barriers to better long-term planning for the planet's rising seas are political, he said, and he urged the commission to reject this type of incremental development.
Jennifer Savage, a Manila resident and California policy director for the Surfrider Foundation (as well as being a personal friend of your correspondent), agreed with Faust, and she argued against commission staff's suggestion to rush sea-level rise planning only when and if the road floods four times in a year.
"We shouldn't need to wait for dangerous flooding to respond to an emergency that we know is already underway," Savage said.

When the matter was returned to the commission, several commissioners had questions for Pimentel.
Aminzadeh, an attorney who serves as executive director of California Coastkeeper Alliance program officer for water at the Pisces Foundation, reminded him that back in 2013 the commission issued a directive to Caltrans, telling them to develop a sea-level adaptation strategy for critically vulnerable assets along the corridor.
"Walk us through the process where you considered redesign efforts," she told Pimentel.
He gave an overview, describing conversations his agency has had with local jurisdictions, but Amizadeh was not placated. She, too, criticized the idea of allowing flooding events to be the trigger for urgent planning.
Ainsworth pushed back some, saying that planning for sea-level raise is happening now, and flooding would just be "a kick in the pants" to implement a more rapid response if necessary.
But Commissioner Donne Brownsey suggested shortening the deadline, requiring Caltrans to come up with an adaption plan by 2025 rather than 2030.
"The fact is, if people don't feel the fire that deadline starts to slide," Brownsey said. "And we don't have time."
She also argued that Caltrans and other agencies need to conduct more comprehensive outreach to the public, including community groups and nonprofits.
Humboldt County Supervisor Mike Wilson, attending his first meeting since being appointed to the commission, grilled Pimentel about the remaining billboards, but Pimentel insisted that Caltrans has done everything in its legal power to remove as many as possible.

Ultimately, Commission Vice Chair Steve Padilla requested some amendments to the special conditions for approval of the project. He backed Brownsey's suggestion of moving the sea-level planning deadline up from 2030 to 2025, and he asked for "clarifying language" to make it clear that nothing in the approval of this project should be used to justify future use of dikes or other coastal armoring measures, which are generally seen as detrimental to the environment in the long run.
With these additional conditions included, the commission approved the project almost unanimously.
On Thursday the commission will take up the Trinidad Rancheria's controversial proposal for a 100-room hotel adjacent to the Cher-Ae Heights Casino. The meeting resumes at 9 a.m. at the Wharfinger.