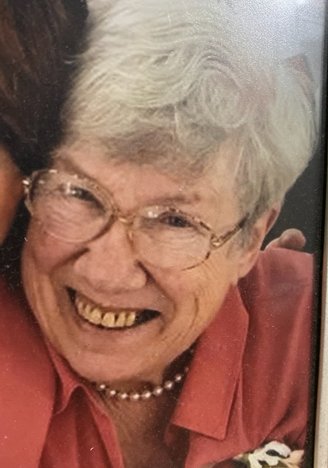 Quilter, nurse, realtor, lover of the arts and nature, mother and longtime Eureka resident Joan Venti died unexpectedly at 87 from natural causes.

Teresa Joan Franklin was born June 20, 1932, near Toronto Canada, to Helen and Howard Franklin. Joan used her middle name as her preferred first name and retained her ex-husband's family name. Her early experience was shaped by a happy and austere life in the wake of the great depression. In her youth, she frequently moved, living in several locations in Ontario. During this time, she became familiar with the Canadian countryside leading to her lifelong interest in nature and wild places. Joan was an enthusiast of many of the pleasures of the Canadian woods, including canoeing, ice-skating, cross-country skiing, and maple syrup cooking parties in the winter. One of the early experiences she recurrently spoke of was sharing her education with her father; he was intelligent but had lacked formal schooling.
She shared her textbooks and debated the content with him under the guise of her father helping her. She attended the Toronto East General and Orthopaedic Hospital School of Nursing, earning an RN degree in 1953. She was known as a diligent student with a penchant for mischief.
Upon graduation, she took a position at Huntington Hospital in Los Angeles County with the intention of staying a year. In Los Angeles, she met her ex-husband Joseph Arthur Venti; they married in 1954 and began raising a family. Joan became a naturalized citizen in 1961. However, the marriage lasted until 1968.
Joan remained in Los Angeles, raising her family as a single mother and working as an RN in many capacities. Joan was an RN nurse for over 35 years. She became the head of a branch of the Visiting Nurse Association SoCal Home Health in Los Angeles County, one of only a few achieving this position without a BA. She was known as a courageous and straight-shooting administrator respected by many in her field. In 1982-84 Joan did a tour of duty as a foreign national RN at the King Khaled Eye Hospital, Riyadh, Saudi Arabia. In her last position as a nurse, she was shift Head Nurse at General Hospital Eureka.
Joan took her children camping starting in the 1960s when it was unheard of for single women to lug around tent trailers and children by themselves. Still, she was not daunted and taught independent do-it-yourself values to her children. She became an expert in many handicrafts, including stained-glass working, antique restoration, and furniture refinishing. In typical working-class do-it-yourself style, she organized her children to take on serious home maintenance work, including outdoor and indoor painting, carpentry, frequently learning how to do it in the process.
Joan always made an effort to take the family on extended camping trips visiting many state and national parks. She was a lover of nature and as such, was attracted to the North Coast. Joan had an affinity for the deserts of California and the coastal redwood of the North Coast region.
Joan was renowned both within her extended family and in the community for quilting, winning the Viewers Choice Award in 2002 at The Heart Of The Redwoods Quilt Show Held by the Redwoods Empire Quilters Guild. However, her first introduction to quilting came at her mother's death, when she finished the last quilt started by her mother. Joan was most recently a member of the Moonstone Quilting Guild. She was widely known as a prolific and skilled quilter, entering and winning numerous contests. Her works have shown at many venues throughout the Humboldt region. She was referred to on occasion as the" blind quilter of Eureka" due to her tenacity for quilting even when her vision was significantly degraded due to macular degeneration, which affected her severely over the last several decades.
Joan was a reader and collector of books as well as a patron of the arts. She was known to attend local theaters in Eureka and an enthusiastic supporter of the Ashland Shakespeare Festival.
Her health had declined in her later years. Along with vision loss from macular degeneration, she suffered from back problems and glaucoma. However, recent surgeries had significantly relieved her back problems and her vision had been markedly improved. In general, her health seemed to be on the mend, and she'd regained much mobility, her sudden death was a surprise to both family and friends alike.
Joan is preceded in death by her sisters, Shirley Conway and Helen Scopes, and her daughter Carla Venti. She is survived by her daughter Nina Reichlin, Nina's husband Curt Reichlin, grandson Ryan Reichlin, Ryan's wife Taylor, her son Joseph F Venti, and Joseph's wife Teresa Sierra. Joan will be remembered by her family and her community for her generosity, tenacity, wit, cantankerous humor, love of wilderness and the redwoods, and her beautiful and beloved quilts. A family service will be held on Sunday, December 22.
###
The obituary above was submitted on behalf of Joan Venti's loved ones. The Lost Coast Outpost runs obituaries of Humboldt County residents at no charge. See guidelines here.