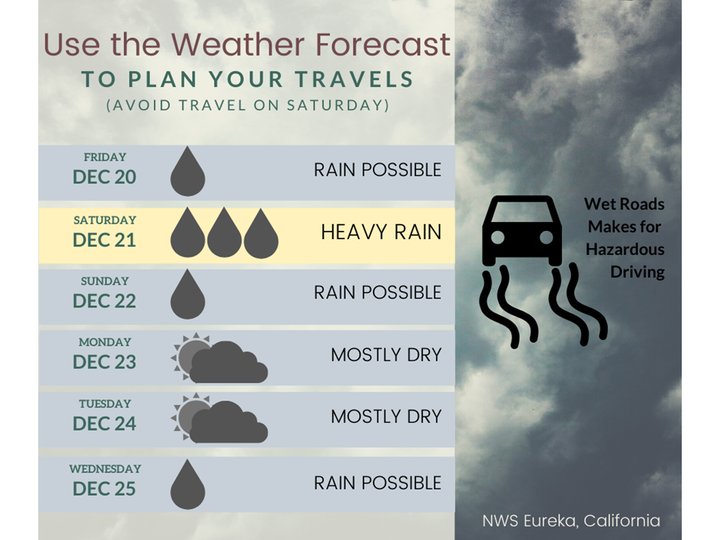 Weather incoming!
The good people at the National Weather Service office on Woodley Island would like to let Humboldters know that there is some weather in their near future. That weather will include both wind and rain, but they'll be kinda spread out into two different phases. First wind, then rain.
Here's a wind advisory they recently issued for the inland portions of Humboldt County:
WIND ADVISORY REMAINS IN EFFECT FROM 10 PM THIS EVENING TO 10 AM PST SATURDAY…

WHAT…Southeast winds 25 to 35 mph with gusts ranging from 45 to 55 mph across exposed areas and ridges along the coastal hills above 1500 feet in elevation.

WHERE…Interior Humboldt and Interior Del Norte Counties. Including the communities of Kneeland and Bear River Hills. Elevated portions of Bald Hills Road and HWY 299 including Berry Summit will also be impacted.

WHEN…From 10 PM this evening to 10 AM PST Saturday.

IMPACTS…Gusty winds could blow around unsecured objects. Tree limbs could be blown down and a few power outages may result.

PRECAUTIONARY/PREPAREDNESS ACTIONS… Use extra caution when driving, especially if operating a high profile vehicle. Secure outdoor objects.
So the inland parts of the county are gonna get the brunt of the blow, but Woodley Island tells us, in the following infographic, that we're gonna be breezier than usual here on the coast as well: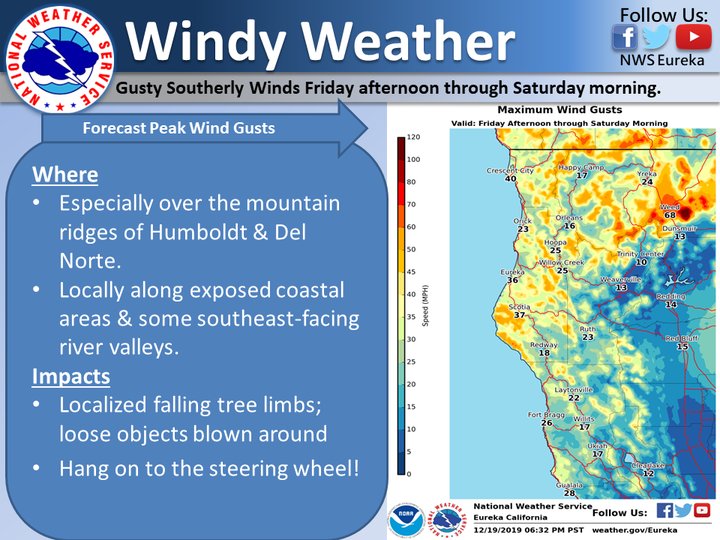 Après wind, le déluge. They're forecasting that Saturday could bring as much as two inches of rain to the coast, and as many as three in Redway.
Check this out: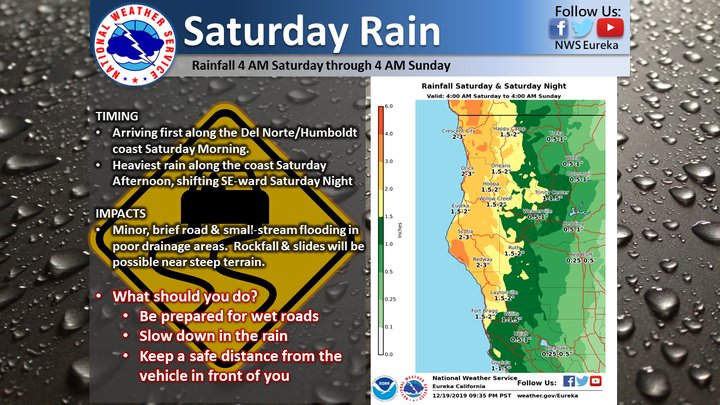 Stay safe! Drive safely! Be prepared for blackouts!
Merry Christmas!