Child Welfare Services has made a massive dent in the backlog of investigations of child abuse and neglect reports, bringing the total of backlogged cases down to just 10. Through a series of policy changes and new hires, CWS brought the backlogged cases down from nearly 300 from earlier this year. Ivy Breen is the deputy director of CWS, and said the success of addressing the backlog is through a combination of pairing social workers together in teams of two, using data to monitor deadlines and a stronger focus on the cases.

"[Nica Meggerson], the program manager of the emergency response program, has been working hard with her team," Breen told the Outpost. "They are also using data and are monitoring [the backlog] on a regular basis."
From March 1 to August 31, CWS received 1,691 reports of child abuse and neglect for their staff of just 90. In order for a case to be considered "backlogged" it has to still be open after 40 days and Breen said given Humboldt's rural nature, it will be hard to have a backlog of absolutely zero.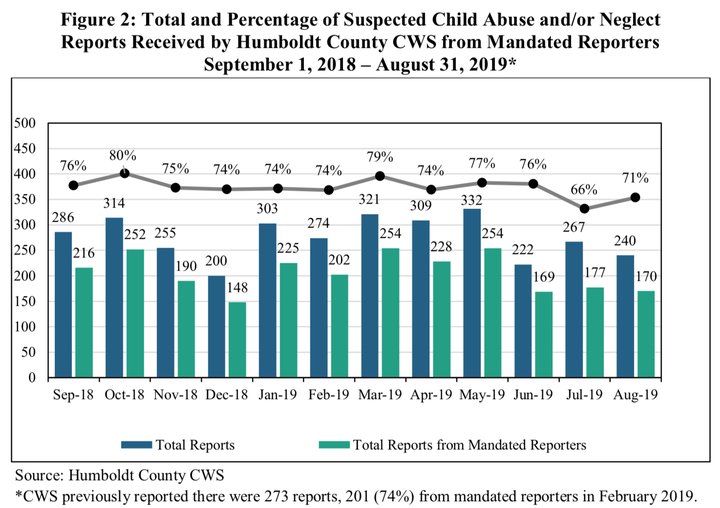 "There may always be a handful that go over the 40 days, but our goal is to conduct those investigations within the statutory timeframe and promote the cases that need to be promoted," Breen said.
Back in early September, the backlog of cases was around 63 and the staffing levels were less than optimal. Locally, social workers were taking on nearly three times the recommended amount of cases — around 29 to 37 investigations a month. According to a December report from the Center for the Study of Social Policy, from March to August Humboldt County CWS social workers received an average of 19 investigations per month. A number that is just above the recommended amount of 12.
"We do still have some [caseloads] that are higher than we would like and we have supervisors that are carrying cases," Breen said.
But, some new hires are finishing up their three-month training program and will be working on their own cases soon. Breen said the training program consists of shadowing social workers and classroom style trainings. Around 20 new additional social workers will be taking on cases.
"We anticipate them having a full caseload in early 2020," Breen said. "We hope to have some of [the caseload] spread around once they have been in their position for around six months and to have some lower caseloads for some of those that have higher ones. We still do have some vacancies, so we are looking to fill those early next year."
To figure out their optimal staffing levels, CWS is working with the National Council on Crime and Delinquency to conduct a year-long study. The study is just beginning and is currently in the design phase. But together, both CWS and NCCD are looking to customize data collection tools for each CWS program to document all the activities that are specific to each area.
"Each social worker will have around four cases or investigations depending on their program," Breen said. "[NCCD] will be tracking all the activities that need to be done specific to the work they do. NCCD will analyze the results and produce a report which have staffing levels, the amount of time needed per program to adequately get the work done. We hope to have the workload study report by September, 2020."
The two agencies are also working together to establish a Child Protection Reporting Guide. According to county data, the purpose of this guide is to be a "support tool that guides reporters through a series of short questions leading to a recommendation to either make a child protection report or not."
The guide went through a bit of field testing during the month of November and Breen said CWS has a draft ready. Once the guide is finalized, CWS will have community trainings for the public and mandated reporters, such as school teachers, doctors, and police and fire personnel.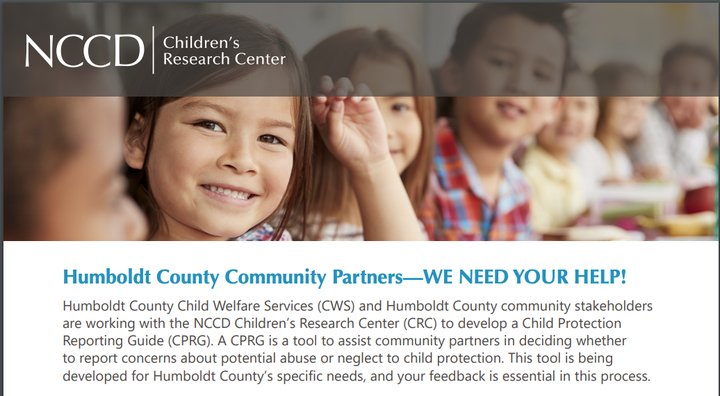 "The goal of it is to be a guide for when our community is on the fence," Breen said. "It is not intended to replace any critical thinking. Everyone in the community is encouraged to call Child Welfare Services and make a report if they are worried about the safety of a child."