Ferndale resident Jeffry Lee Tsarnas must stand trial on a charge of fleeing the scene after his car struck and seriously injured a woman on Fernbridge in November 2018, Judge John Feeney ruled Friday. After hearing testimony in Tsarnas's preliminary hearing, Feeney held him to answer on the felony hit-and-run charge and set arraignment for Jan.6.

"The People have shown a possibility of guilt," the judge said.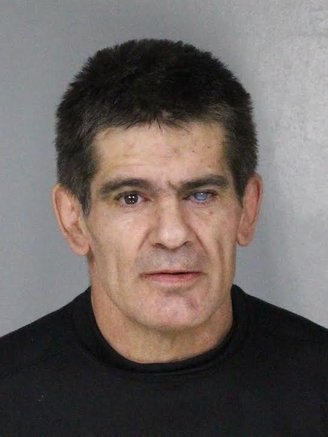 Tsarnas's 14-year-old daughter, Faith Lorraine Tsarnas, was killed by hit-and-run driver Marci Kitchen in July 2016. Two months after Kitchen was sentenced to eight years in state prison, Jeffry Tsarnas allegedly hit a pedestrian and fled the scene.
Tsarnas's alleged victim, Marie Kelley, testified she was walking eastbound down the middle of the bridge, heading toward Bear River Casino, when she was hit from behind. She had argued with her boyfriend and was walking to the casino to call a friend and have him pick her up. Tsarnas, 56, was also en route to the casino in his girlfriend's Toyota sedan.According to one witness, he was driving up to 60 mph on the narrow bridge.
"[Tsarnas] said he felt he had hit something, but he didn't know what it was — maybe a dog or a block of wood," said California Highway Officer Matthew Harvey, who interviewed Tsarnas and his girlfriend Barbara Craft the day after the incident. "He said he applied his brakes but did not stop and went on to the Bear River Casino …. there was nothing in his mind that would have made him think he hit a person."
But Craft, interviewed later when Tsarnas was not there, told the officer she had confronted Tsarnas with "You knew you hit her," and he reportedly responded "Duh, but I'm not going to say that."
Officer Harvey was the first witness called by Deputy District Attorney Roger Rees, who also asked about witnesses who spoke with Harvey after the collision. Witness Trina Comfort told Harvey she was driving westbound on Fernbridge when she saw a pedestrian in the roadway.
"She also saw a light-colored sedan traveling eastbound at a high rate of speed," the officer testified.
Comfort thought the speed was up to 60 mph. Comfort drove past the pedestrian and then looked in her rear-view mirror.
"The sedan passed her and collided with the pedestrian and the pedestrian had essentially gone airborne," Harvey said. "She did not see any brake lights."
Other witnesses told Harvey the pedestrian had been in the middle of the road, yelling at passing motorists and taunting them. One witness said the woman was lying in the road at one point, as though trying to commit suicide. Harvey, when he arrived at the scene about 5:40 p.m., found Kelley on the ground in extreme pain. Nearby was a side mirror that had come off a sedan.
Another witness said the pedestrian was wearing a dark-colored hoodie and apparently did not activate the signal that warns drivers of pedestrians or bicyclists on the bridge.
"He almost collided with her because of her antics on the bridge," Harvey said under cross-examination by defense attorney Neal Sanders.
"Mr. Tsarnas told you that he might have hit something on the bridge," Sanders said. "Did he tell you why he didn't stop?"
"He didn't think he had hit something that he needed to go back to see," Harvey answered.
Tsarnas told Harvey he was "shocked" to see a news report that someone had been hit, with the report including a photo of the side mirror found on the bridge.Craft recognized the mirror from her car, as it already had no glass. They immediately called CHP and went to be interviewed.
Kelley testified she was indeed in the middle of the bridge when hit. She always walks in the middle for safety, she said, because there is "no shoulder on either side." When she sees or hears a car coming, she steps to the side. She didn't hear the car that hit her from behind.
"It struck me on my right shoulder," Kelley recalled. "It ran over my left ankle. It spun me around and knocked me down. I tried to stand up but my ankle was mangled … it completely smashed my ankle and foot."
Kelley has already undergone two surgeries and expects to have more. She was in a wheelchair for five months. She is still in pain and said "I can't do anything I used to do."
Under cross-examination by Sanders, Kelley denied yelling at cars and taunting drivers. She also denied lying down on the bridge. "Oh no, Sir," Kelley replied.
After being struck, she began crawling across the bridge in the middle of the road. She was still trying to get to the casino.
"I was on a mission," Kelley said.
Asked about her statement to doctors that she has a history of methamphetamine use, Kelley acknowledged using meth "among other things." But she said she was not using the day she was hit.
Whether Tsarnas was drinking at the time of the accident is an unresolved question. Video surveillance cameras at the casino show him getting out of his car and walking normally into the casino. No video taken inside shows him drinking, and he walked normally to his car a couple of hours later. He initially told Harvey he wasn't drinking at the time of the wreck, later acknowledging he bought a bottle of brandy that day but didn't have any until after he arrived home.
Craft, however, told the officer she saw a bottle of spilled brandy on the floorboard of her car. And she said Tsarnas told her he was relieved the CHP didn't impound the car "because of the alcohol." Video shows Tsarnas at the casino, inspecting the front of the Toyota for damage. The only damage he saw, he says, was a few scratches from a previous accident. He didn't realize the mirror was missing until seeing the news report.
PREVIOUSLY: