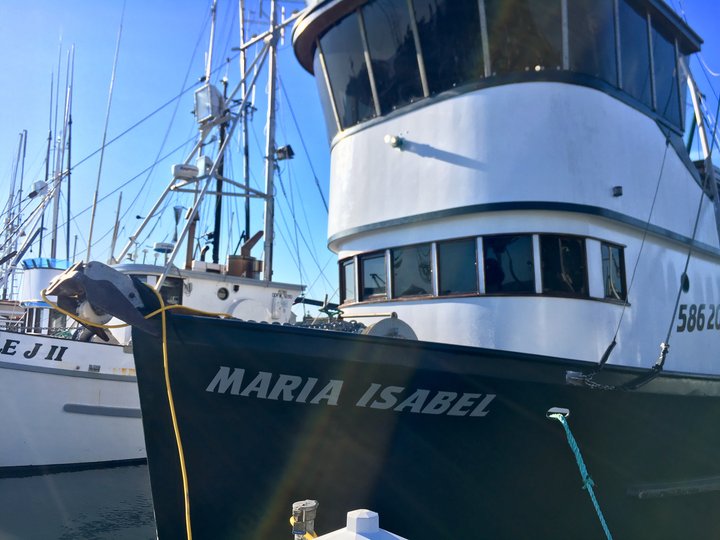 Humboldt's crabbers are set to start hauling in their pots starting just after midnight tonight, after price negotiations and a twice-delayed start due to low meat content. Crabbers were allowed to start dropping pots at 8:01 a.m. on Dec. 28 — 64 hours ahead of the start time — in what's called a "pre-soak" period.

This year's season was supposed to start on Dec. 1. However state tests revealed meat content as low 20.2 percent in the Trinidad area and 21.9 percent in Eureka. This pushed the start date back to Dec. 15, but was delayed again to Dec. 31. In order for the state to give the go-ahead for the crabbing season, the meat content has to be at least 25 percent.
The docks around Humboldt Bay were buzzing this morning as crabbers prepped their boats with pots and finished up some last-minute repairs on their engines. The Maria Isabel was docked at the Woodley Island Marina this morning as captain Aaron Newman and two deckhands prepped the boat and engine ahead of this evening's start. Newman has been crabbing for about 20 years and said he is getting $3 a pound this year for the Dungeness crabs he brings in.
"That's kind of been the average price for about the last seven to eight years," Newman told the Outpost from the deck of the Isabel Maria. "They've gone for as high as $3.25 in the past."
Newman said each fisherman has their own favorite spot where they drop their pots — usually anywhere from near the beach to about eight miles out in the ocean. He said he uses a variety of sources for bait that range from mink carcass to sardines and anchovies or "whatever people think fish the best and the longest."
Once the pots are hauled in, the crabs are put in a live tank aboard the boat. During good seasons, Newman said there are so many crabs in the pots that you don't know what to do with them. He said he stays out at sea for as long as it takes to fill his tank, which can sometimes mean multiple days.
Although this season is starting about a month later than what it was supposed to, it is still ahead of last year. A year ago the season didn't start until Jan. 15, and it ended in April, cutting the season short by about three months.
Another threat to the crabbing season is whale entanglement in the crab pot lines. Back in 2017, an environmental nonprofit called the Center for Biological Diversity sued the California Department of Fish and Wildlife for failing to prevent whale deaths due to entanglement in crabbing equipment.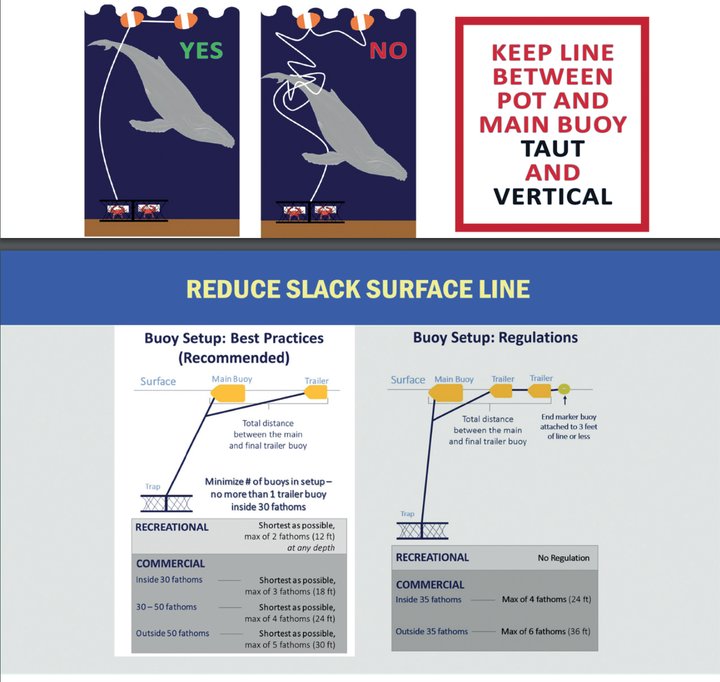 CDFW sent out a "Best Practices Guide" that details the ways crabbers should set up their equipment. The practices include minimizing knots, reducing excessive lines floating on the surface and avoiding setting equipment near to known locations of whales and sea turtles, among others.
Newman said he wasn't planning on heading out tonight, but will be in the following days. When asked if there was anything he wanted to say as far as the start of the season goes, Newman said, "I hope everybody gets home safe."