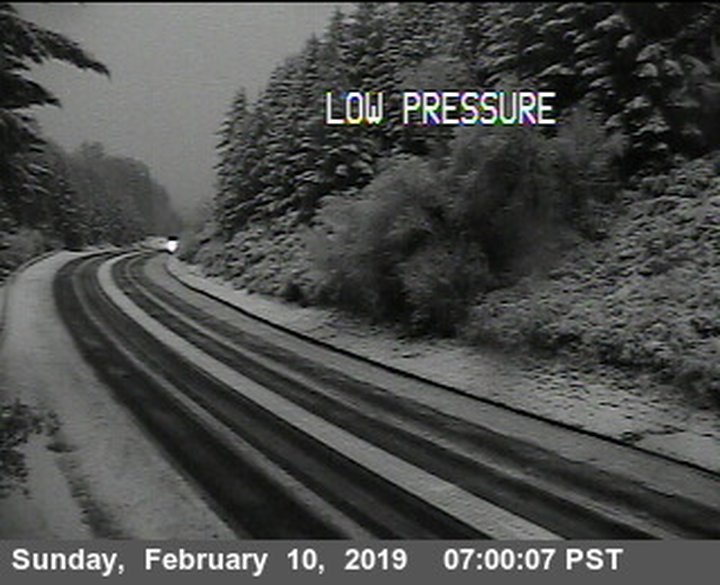 UPDATE, 3:15 p.m.:
According to the CHP, Highway 101 was reopened at 2:45 p.m. for northbound and southbound traffic.

UPDATE, 2:00 p.m.:
According to a different CHP incident report, southbound traffic is flowing on Highway 101 near Leggett, but northbound traffic is still stopped as of 1:37 p.m.

UPDATE, 1:45 p.m.:
The California Highway Patrol reports that Highway 101 was reopened near Leggett at about 11:30 a.m. after power lines and snow were cleared from the roadway.
###
A whole lot of snow fell on the North Coast overnight, sticking in quantity all the way down to sea level and closing a couple of major highways.
Highway 101 near Leggett was shut down just after 3 a.m. due to snow conditions. As of this writing, Caltrans isn't sure when they'll get it open again, but they're hoping for daylight. Follow automatic updates from CHP dispatch at this link.
Up north, Highway 199 is closed between Crescent City and Gasquet following snowy conditions, numerous crashes and lots of trees falling down in the roadway. CHP updates at this link.
Stay safe out there! Maybe don't drive! Follow the Outpost's CHPWatch page — apart from the major closures listed above, there are lots and lots of local roads that are snowed in or otherwise impacted by the weather, and you'll get a continuously updated list at that link.
Enjoy the snow.