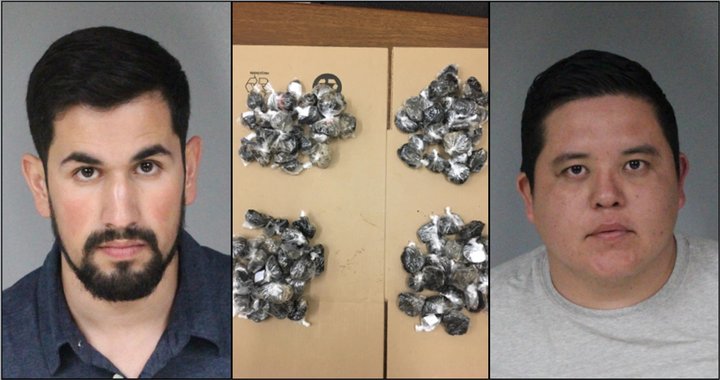 Humboldt County Drug Task Force press release:
On February 10th, 2019, at approximately 4:30 p.m., Special Agents with the Humboldt County Drug Task Force, with the assistance of narcotic detection K9 with the Humboldt County District Attorney's Office, conducted a traffic stop on a vehicle in the 1000 block of Hookton Road, Loleta. Agents had previously received information, and obtained a search warrant, for a vehicle being driven by Adrian Carlos Cota-Alonso and Edgar Barragan-Castano (both from Sonora, Mexico). Agents established probable cause to believe that both subjects were distributing multiple pounds of heroin in Humboldt County.

During the traffic stop, both subjects were detained without incident. Agents served the search warrant and located a false compartment in the rear passenger seat. Agents opened this compartment and located approximately 12 pounds of suspected heroin packaged for sales. Agents also seized over $6,000 in US currency that is believed to be profits of narcotics sales. This currency will be held pending asset forfeiture proceedings.


Cota-Alonso and Barragan-Castano were subsequently transported to the Humboldt County Correctional Facility where they were booked for possession and transportation of controlled substances for the purpose of sales. Pursuant to PC 1275, agents were granted bail enhancements for both arrestees and their bail was set at $100,000 each.

This is believed to be the largest one-time seizure of heroin in Humboldt County history.

Anyone with information related to this investigation or other narcotics related crimes are encouraged to call the Humboldt County Drug Task Force at 707-444-8095 or the Humboldt County Sheriff's Office Tip Line at 707-268-2539.