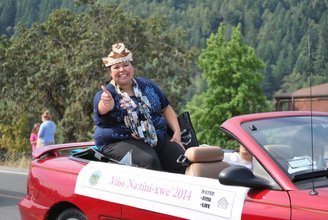 Former Miss Hoopa Kayla Brown will spend 120 days in jail and must register as a sex offender for molesting a 14-year-old Hoopa girl back in 2014 and 2015.

This morning Judge John Feeney imposed the sentence on Brown, now 25, and also ordered she be placed on five years of supervised probation and perform 150 hours of community service work.
Feeney initially said he didn't intend to impose jail or prison time on Brown, who has no prior criminal history. But after listening to comments from Deputy District Attorney Carolyn Schaffer, who also read a letter from victim Jane Doe's mother, the judge sentenced her to 120 days beginning March 16. She is now out of custody on bail.
The relationship between Brown and the girl lasted just a few months, but the victim's mother said her daughter suffered greatly. Especially, the mother wrote, because the court case dragged on during the four years the girl attended high school.
"You can't give a child her innocence back," the mother said. "She'll never be the same person she was."
Nevertheless the teen finished high school, all the while enduring "terrible public humiliation from Ms. Brown and her family." Now the victim is attending college.
The mother called her child a survivor, and said "Unlike Ms. Brown, my daughter has a heart."
Schaffer said Jane Doe's mother reached out to Brown "far in advance," telling her the relationship was "too adult" and asking her to stop.
The Probation Department recommended supervised probation and no jail time for Brown. Schaffer argued, however, that Brown should be sentenced to 180 days "so the defendant understands what she did was harmful to others."
At the time of the relationship, Brown was 21, had a car and a job. Schaffer said the victim looked up to her as a mentor.
"That dynamic was some sort of power play," Schaffer argued.
Brown was a cheerleading coach and also was involved in other youth programs in the community. She was charged in April 2015 but didn't plead guilty until last month, admitting felony charges of sexual penetration of a minor under 16 and contact with a minor for a sexual offense.
She stood silently next to her attorney, Deputy Public Defender Ben McLaughlin, as Schaffer spoke and read the letter.
McLaughlin said the families of Brown and the victim have a "contentious relationship," but believes Brown behaved properly while the criminal case was pending.
He questioned whether the case would have been treated differently if a 21-year-old man had a sexual relationship with a 14-year-old girl.
"It was an age-inappropriate relationship," McLaughlin said, "but if my client was a male I don't think we would be here today."
The doctor who evaluated Brown does not believe she is a predator, he said. "Neither do I, nor does the Probation Department."
"My client was experimenting with her sexuality," McLaughlin said. "It's unfortunate the person was a minor."
He said Brown having to register as a sex offender for a minimum of 10 years is an "unjust" order that will affect her ability to get a job and harm her in the community.
As for the victim's claim of being harassed by Brown and her family, McLaughlin said "that conduct was not a one-way street."
"Ms. Brown also has been antagonized," he said.
Over McLaughin's objection that "Hoopa is a small community," Feeney ordered Brown to stay at least 100 yards from the victim.
# # #
PREVIOUSLY: