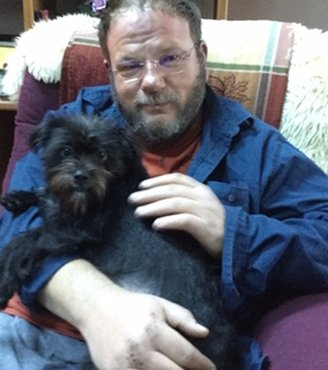 Bruce Allen Thompson passed away on December 5, 2018 at the age of 52, leaving us way too soon. Bruce was born in Arcata on September 15, 1966 to Beverly May Thompson and Jack Maurice Thompson Jr. His wittiness and caring nature will be missed.

Bruce grew up in his loving grandmother, Matilda May Alto's home in the Indianola area, where he attended Freshwater Elementary, Winship Jr. High, and Eureka High School, graduating at the top of his class. He went on to attend College of the Redwoods (Associate of Arts), Humboldt State University, Cal Poly San Luis Obispo, Santa Rosa Junior College, Sonoma State University (Bachelor of Arts), San Francisco State University (Master of Arts) and the Spanish Institute of Puebla in Mexico.
Bruce had an incredible memory, a thirst for learning, and quest for knowledge. He loved history in general, and was a walking encyclopedia of knowledge about world history, United States history, and was thoroughly versed in Humboldt County history. He spent many years working with local historian Ray Hillman giving tours around the area. He absolutely loved the local area and loved taking out-of-town guests to his beloved redwoods, to the Eel River and especially to Founders Grove. His first job was at the Stump House on Broadway.
Bruce was an avid researcher on the internet learning all about his latest interests, from cookbooks and cast iron skillets to terrier dogs and to his love of genealogy. He not only loved researching and reviewing his latest interest but in sharing that knowledge with others.
When Bruce received his master's degree in gerontology, he became an advocate for the elderly. He not only spent his working hours assisting his clients but volunteered many hours. He counseled people in desperate situations and was able to assist them to move toward better health. He counseled chronically ill and sometimes chemically dependent people and learned to quickly assess needs and develop a response that addressed core issues and concerns. He loved problem-solving — insurance issues, respite care, technology, medical care, medical supplies, whatever it took to make someone's live better.
Bruce is survived by his sister, Sandra Lewis (Ben) and brother, Leonard Thompson (Peggy). He was very fond and proud of his five nephews and one niece: Robert Thompson, Matthew Hillyard, Dustin Thompson, Jeffrey Hillyard, Karri Loewen, and Andrew Thompson. He was preceded in death by his mother, Beverly May Thompson, father, Jack Maurice Thompson Jr., and his loving grandmother, Matilda May Alto.
The love of his life was his little black terrier, Pearl, whom he rescued three years ago. They were always together. If love for his dog could have kept him alive, he would have lived forever.
Bruce also had a special place in his heart for his nephew Jeffrey. He was proud of the fact that he mentored and guided Jeffrey through his transition to Cal Poly. Jeffrey always made sure to stop and spend time with Bruce every time he traveled from home to Cal Poly. They spent a lot of time together. Jeffrey was the son he never had.
A special thanks goes to wildlife photographer and County Line Wild blogger, Talia Rose, the Southern Humboldt Technical Rescue team, and the Mendocino county coroner.
Any donations can be made to Southern Humboldt Technical Rescue Team, P.O. Box 458, Redway, CA 95560 in Bruce's name.
###
The obituary above was submitted on behalf of Bruce Thompson's family. The Lost Coast Outpost runs obituaries of Humboldt County residents at no charge. See guidelines here.