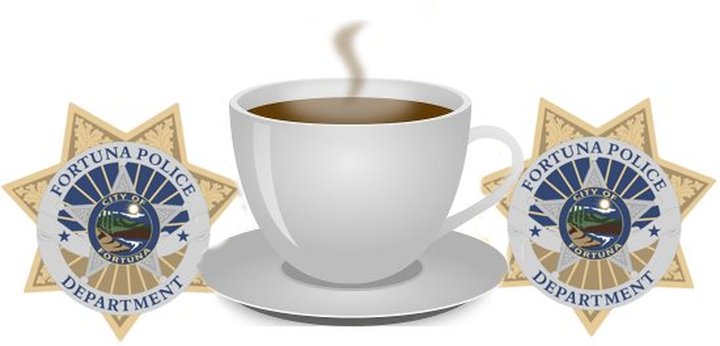 Fortunans! Do you have questions for the police officers patrolling your streets? Would you like to get to know them a little better? Do you also like coffee!

Now comes word that the FoPD is joining its sister agencies — the Eureka Police Department, the Arcata Police Department, and the Humboldt County Sheriff's Office — in offering a "Coffee With a Cop" event, this one at the Strongs Creek Plaza Starbucks. Come on down — the coffee's free!
Press release from the Fortuna Police Department:
Fortuna residents will have the opportunity of sharing a free cup of coffee with the City's police officers, while getting answers to some of their most pressing questions about crime in the Friendly City.

On February 21st, from 8am until 10am, officers from the Fortuna Police Department will be available to answer questions from members of the local community at the Starbucks in Strongs Creek Shopping Center, (located at 1095 S. Fortuna Blvd., Ste. A), as part of the "Coffee with a Cop" program. The "Coffee with a Cop" program has proven to be a unique way to strengthen community partnerships with the police officers who serve the community.

According to Police Chief William Dobberstein, "The program allows citizens to get answers to their questions in a relaxed and non-threatening atmosphere, while helping build a relationship with our officers that strengthens crime prevention efforts in our community."

Dobberstein added that the coffee is free but you will have to bring your own donuts.

Last year, the coffee was donated by the local Starbucks For additional information contact Crime Prevention Specialist Enoch Ibarra at (707) 725-1453 or Sergeant Jason Kadle at (707) 725-1438. We hope to see you there.