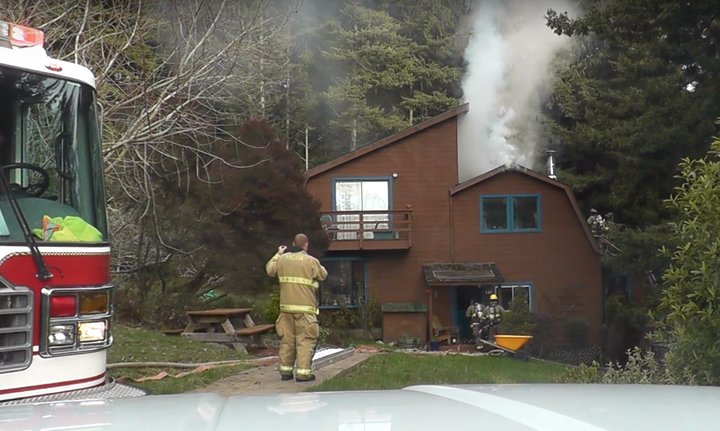 PREVIOUSLY: Scanner Traffic Indicates
Arcata Fire District press release:
Arcata Fire District was dispatched to a chimney fire with possible extension to the roof at a house on Glendale Drive near Highway 299 yesterday afternoon.

The first arriving Chief Officer reported a working roof fire with difficult access down a rural driveway. As part of an automatic-aid agreement with Arcata Fire's neighboring agencies, Fieldbrook Fire, Blue Lake Fire, CAL FIRE Trinidad, and Humboldt Bay Fire Districts also responded to the house fire.

Firefighters worked through the typical challenges of a structure fire in the rural setting. Those challenges include lack of water, limited access down a private driveway, uneven terrain, delayed response due to drive time, and the need for water tenders and additional personnel to shuttle water to the scene.

Battalion Chief Campbell stated, "This fire challenged us because we didn't have the staffing on our first arriving engine to get the work done that needed to be done. Even a third person on the fire engine would have helped the initial crew that went to the roof. We spent the first fifteen minutes of this incident setting up equipment to prepare for a fire attack. Crews were dealing with a challenging roof access and high vaulted ceiling inside. This slowed our operation significantly."

The fire resulted from a chimney fire extending to the shake roof and caused more than $57,000 in loss. Firefighters saved the house and all of the owner's property, which is valued at over $349,000. Firefighters had to use multiple ladders to reach the fires location because the house had a split roof and high vaulted ceilings. There were no injuries to the occupant or any of the firefighters.