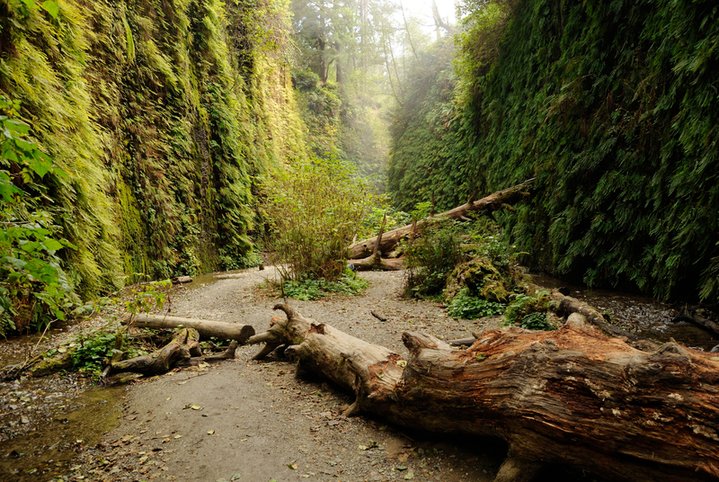 The Redwood Parks Conservancy, a non-profit partner with Redwood National and State Parks, issued an update today on how the ongoing government shutdown is affecting Redwood National and State Parks.
The RPC Prairie Creek Visitor's Center reports that it is unable to issue permits for Tall Trees Grove or any backcountry camping sites besides Gold Bluffs Beach during the shutdown. However, many campground sites are trails are still open. See more below. [UPDATE, 1/11: An employee of the visitor's center called to give props to state parks employees for "working extra hard" and "shouldering a lot more responsibilities" during the partial government shutdown, "especially the maintenance folks."]
Prairie Creek Visitor Center: open for visitor services from 9 a.m. to 4 p.m. every day.
The Hiouchi Visitor Center, Thomas H Kuchel Visitor Center and Crescent City Information Center: closed until further notice.
Jedediah Smith, Elk Prairie and Gold Bluffs Beach campgrounds: All open to visitors on a first-come, first-served basis, with a self-registration cost of $35 paid in cash or check. Gold Bluffs Beach backcountry permits can be obtained in person at the Prairie Creek Visitor Center.
Davison Road is currently closed past Gold Bluffs Beach Campground due to weather conditions, which means Fern Canyon visitors will have to hike an additional 1.5 miles to reach the canyon.
The Newton B. Drury Parkway is also closed north of the visitor center and south of Coastal Drive Road due to debris and fallen trees in the area. It is possible that the road will reopen by January 15.