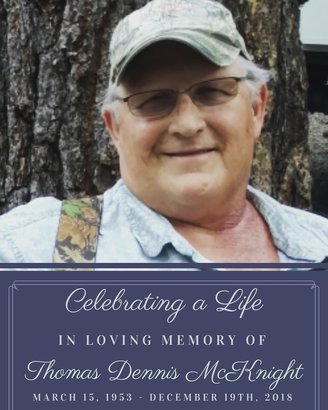 Thomas Dennis McKnight passed from life on Wednesday, December 19, 2018 at his home in Burnt Ranch after a long struggle with cancer. In passing, he left behind him a legacy of hard work, respect for others, and a positive outlook on life.

Tom was born on March 15, 1953 in Eureka. For the most part he lived his entire life within the Klamath-Trinity community. He graduated from Trinity Valley Elementary School, Hoopa High School, and attended College of the Redwoods where he was a defensive tackle for the 1972 State Champion football team.
Tom spent his career working in the logging and construction industry. There he managed his own business to span the good times and bad over the years. Along the way he worked with a lot of great people, and developed relationships which lasted throughout his lifetime.
Dedication to family was a defining feature in Tom's life. Many hours were spent in support of his children's activities, and later for his grandchildren.
Those who knew Tom best knew of his passion for the sport of wrestling. His activity for this sport spanned over years to include both his children and grandkids. Over the years he coached, managed the wrestling club, worked as a referee, and was always an avid fan.
Tom enjoyed giving back to the community, and considered civic service to be important. Over the years he participated in many organizations including, the church, wrestling club, school board, Kiwanis club, as well as other boards and committees. Most notably he was a member of the Trinity County Planning Commission for 27 years, the longest in the history of Trinity County.
In 2015 he was remarried to Colleen McKnight, who gave him love and happiness until the end. Together they spent his last years enjoying life, including fulfilling his dream of returning to Alaska where he worked in his youth.
Tom is survived by his wife – Colleen; Mother – Joanne; Brother – Scott; Sister-in-Law – Amelia; Ex spouse – Dorene; Sons - Joshua, Jeremy, and Jonathan; Daughters-In-Law – Lisa. Tracy, and Christina; Grandchildren – Joshua, Skylar, Jamison, Tristan, Carter, Dylan, Sadie, Maya, and Knox. Tom was preceded in death by his father Tom Mcknight.
As a whole, Tom's life can be summarized as someone who always tried to do the right thing. In both his business and personal relationships he strove to always treat people the way he would want to be treated himself.
A Celebration of Life will be held for Tom on January 20, 2019, between 2 p.m. and 4 p.m. at the Willow Creek VFW Hall. All friends, family, and associates are welcome.
###
The obituary above was submitted on behalf of Tom McKnight's family. The Lost Coast Outpost runs obituaries of Humboldt County residents at no charge. See guidelines here.