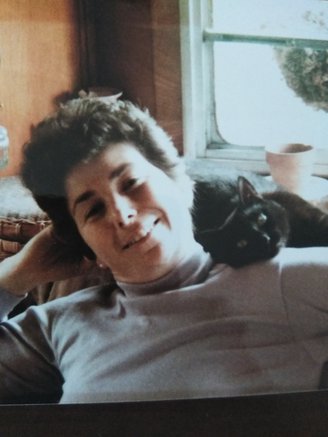 Carol was a long time resident of Humboldt County. Born in S.F. Carol grew up in the Haight district during the late '50s and early 60s. Growing up her parents owned property out Bell Springs, and this is where her love of the area grew from.

After having her daughter Karen Thomas, she and her husband at the time Dan Thomas moved to New Harris, Humboldt County in 1970. She worked at places like Evergreen Natural Foods, now Chataqua. She managed Ruby Valley Co-op, and worked at Southern Humboldt Community Hospital. She was closely connected to the community and its people. Nicknamed " CC" because people would get her and Carol Bruno confused, especially since they were best friends. She cherished her friends and the time they spent together.
In her later years she went on to graduate from College of the Redwoods in 1992 and move to Northern Humboldt. Not long after graduating from CR, she had the first of several brain surgeries due to reoccurring melanoma tumors. In 1993 a massive brain hemorrhage left her in a coma for 3 days. When she woke from the coma, they discovered she had lost her eyesight. It was during this time that Carol became involved with the Humboldt County Coalition of the Blind and helped publish a book called "Tales From the Cracked."
As she got older she refused live-in help and was very particular about her care providers, incredibly independent to the very last day.
Most people knew her as funny and strong-willed. Compassionate, yet cast-iron. She was a brilliant when it came to numbers and astrology. She loved gardening, canning, music…
She survived by her daughter, Karen M. Thomas, grandchildren Gary and Larissa Pree and three great-grandchildren: Kaityra, Nyra and Izreal Pree.
###
The obituary above was submitted on behalf of Carol Cadeaux's family. The Lost Coast Outpost runs obituaries of Humboldt County residents at no charge. See guidelines here.