Numerous agencies this morning descended on a parcel tucked off Broadway in Eureka, between Applebee's and the Bayshore Mall, serving criminal search warrants and abatement notices.
In a press release, the Eureka Police Department said the property has been hosting illegal drug trafficking and the illegally built structures onsite pose numerous health and safety hazards.
Coincidentally, the Outpost was given a tour of the property Wednesday morning during the Point-in-Time homelessness count. One of the many homeless people who've been living there, a man who would only give his first name, Joseph, invited us over to see what's been built. Behind a nondescript cinderblock building we found a remarkable Buddhist garden complete with bungalows, elaborate landscaping, large-scale statuary and a mural of a tropical beach.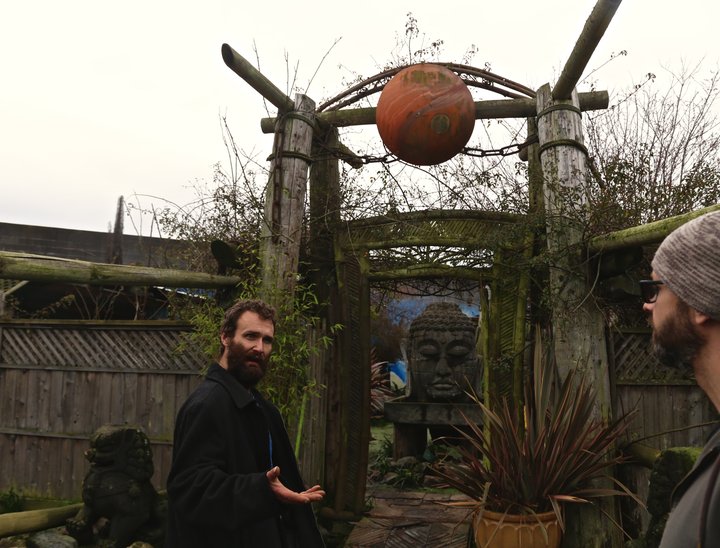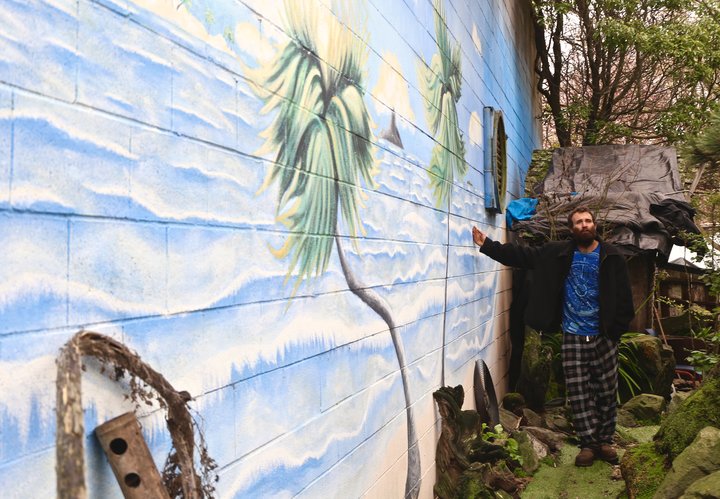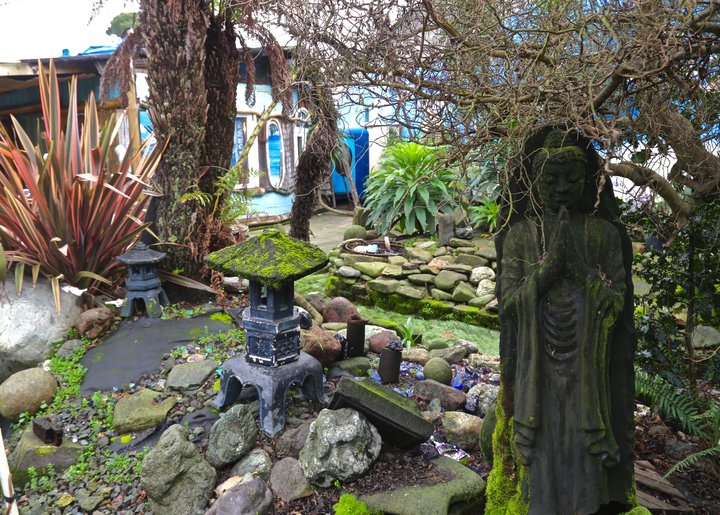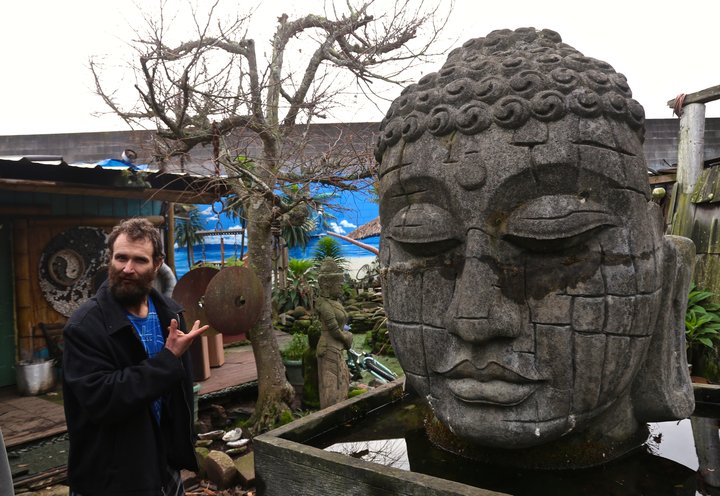 "This is fuckin' beautiful, isn't it?" Joseph said mid-tour.
He was clearly proud of the place and the work that had been done. Volunteers had set up in the Applebee's parking lot across the way, serving chili, cornbread and coffee to the residents as part of the homelessness count effort.
"I just didn't want you guys to come down here and get a half-right story about how these people are coming down here to help us when they don't even know what's going on in here," Joseph said.
This morning, surrounded by law enforcement officials, another resident of the property, Timothy Utterback, told the Outpost's Andrew Goff that there were more than 30 people living onsite. According to the press release the illegal developments on the property included makeshift latrines that are draining into protected wetlands as well as electrical and fire hazards, garbage, and abandoned vehicles.
Early last month, five stolen motorcycles were recovered from the property.
The owner of the property is Ed Kirkpatrick. "He was trying to do a good thing and people took advantage of it," Utterback said.
[UPDATE, 11 a.m.: Facebook commenter Brandy Taylor notes: "Just to clarify, the owner of the property Ed Kirkpatrick is/was a landscaper. The landscaping has been like that for years. The homeless have only been on this property for the last year or so."]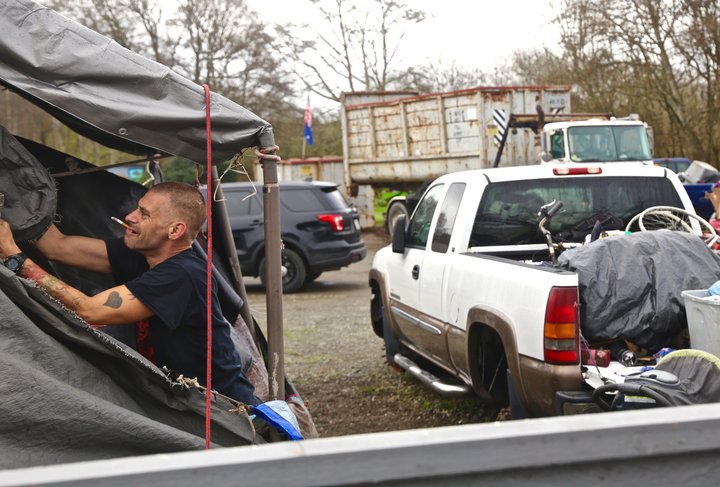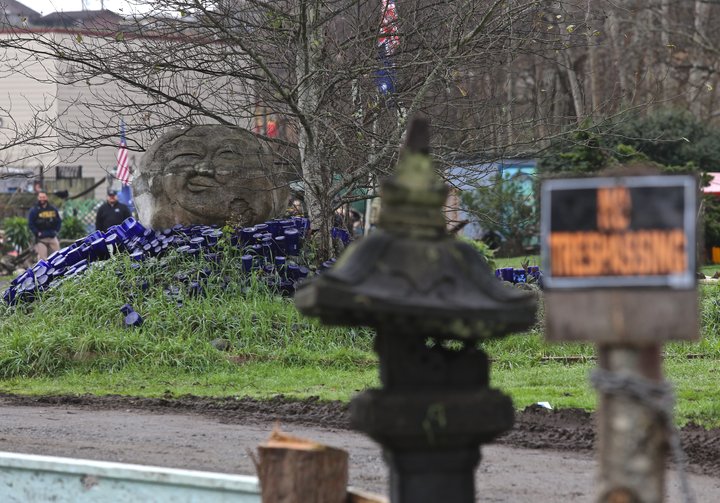 Utterback said he'd built up his encampment over the last couple of months and had been told he had just two hours to take it down. He has a job to go to today and will probably stay at a motel tonight.
Other residents were evacuated from the property, with many, no doubt, unsure where they will sleep tonight.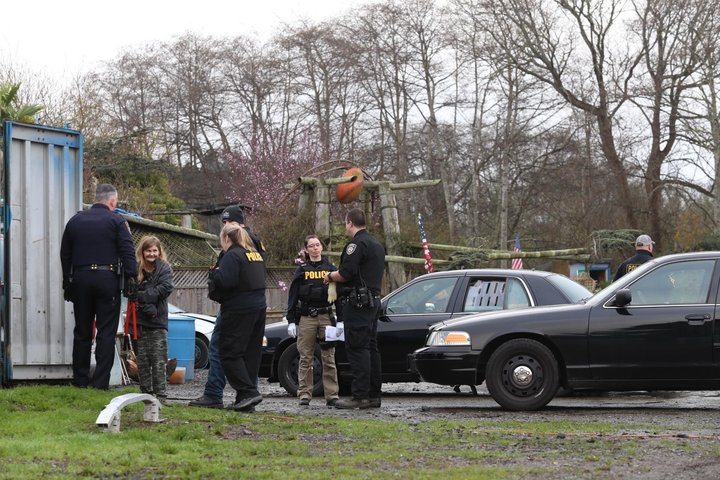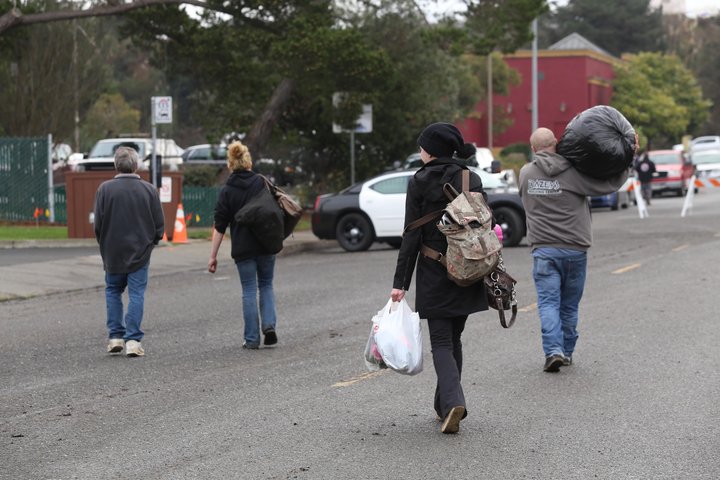 From the Eureka Police Department:
The City of Eureka Code Enforcement Division, Public Works Department, Police Department and employees of California Fish and Wildlife are executing inspection/abatement and criminal search warrants on a property located on the south side of Bayshore Way in Eureka today commencing at 8 a.m.

The subject property is the site of many conditions which pose a threat to public health and safety including: illegally built structures, makeshift latrines draining into protected wetlands, electrical and fire hazards, accumulated garbage and debris and disposal of abandoned vehicles in sensitive habitat. The property has also been the site of multiple instances of illegal drug trafficking, storing of stolen property and other criminal activities that have created unsafe conditions affecting the surrounding neighborhood. The mall entrance at Bayshore Way will be closed to through traffic during this operation. These activities may continue as needed into early next week.
###
PREVIOUSLY:
[Note: This post has been updated from its original version to clarify that the landscaping on the parcel may predate the homeless residents.]