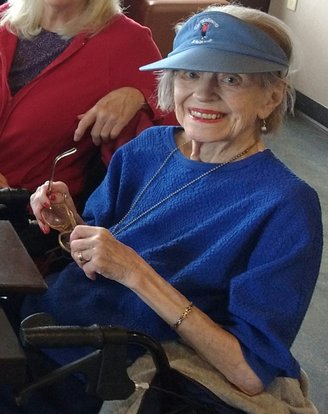 Mildred Lane Anderson, affectionately known as Mille, passed away at age 96 on January 16, 2019. A longtime resident of Arcata, she had recently moved to Alder Bay assisted living facility in Eureka.

Mille was born in Phoenix, Arizona on October 28, 1922 and was the daughter of Edwin Lane, an Episcopalian minister at Trinity Cathedral, and his wife Mary Lane. She is survived by her daughter, Margaret Anderson Branch of Arcata, her son Frank Anderson Jr. of Arcata, one of her two sisters — Mary Koontz of Minneapolis, Minnesota — and her younger brother, Edwin Lane of Bellingham, Washington. She had lost her older sister Elizabeth Baker of San Jose several years previously.
Mille attended Mills College in California and graduated from Arizona State University. She met and married her Air Force husband, Frank Anderson (deceased in 1998) after World War II and went with him to Mexico City on their honeymoon to meet his family. However, the couple did not return to the U.S. until 1963, having raised their son and daughter in Mexico.
Working as a volunteer at the American-British Cowdray Hospital in Mexico City was important to my mother, Mille, and later she assisted others as an Employment Counselor in the employment agency she managed with my father in El Cerrito. She was warm and vivacious with people, and also greatly enjoyed a short career as a realtor with Red Oak Realty in the San Francisco Bay Area.
Having retired to Arcata in the early 1990s, I often heard my mother refer to Humboldt County as "God's country" after so many years of big-city living. She loved driving over to the ocean shore with my brother to see the waves, having had the opportunity to spend time at the beach in Southern California in her youth.
In Arcata, Millie also became involved with Saint Alban's Episcopal Church in Sunny Brae, and was much appreciated for her volunteer work there. It was through Saint Alban's that she made good friends in her later years as a widow, which was a source of comfort to her. We are most grateful for the outreach ministry of St. Alban's towards my mother in her final days.
Millie will be missed and was much loved by her son and daughter, as well as her daughter-in-law, Ada Simmons Anderson, her great-granddaughter, Alden Morikawa of Virginia (with whom she had the good fortune to visit just a year ago) and her granddaughters: Patricia Poladian of San Diego, Leah Bivins of Virginia, Jessica Branch of Maryland, and Ariel Huisman of North Carolina.
###
The obituary above was submitted on behalf of Millie Anderson's family. The Lost Coast Outpost runs obituaries of Humboldt County residents at no charge. See guidelines here.