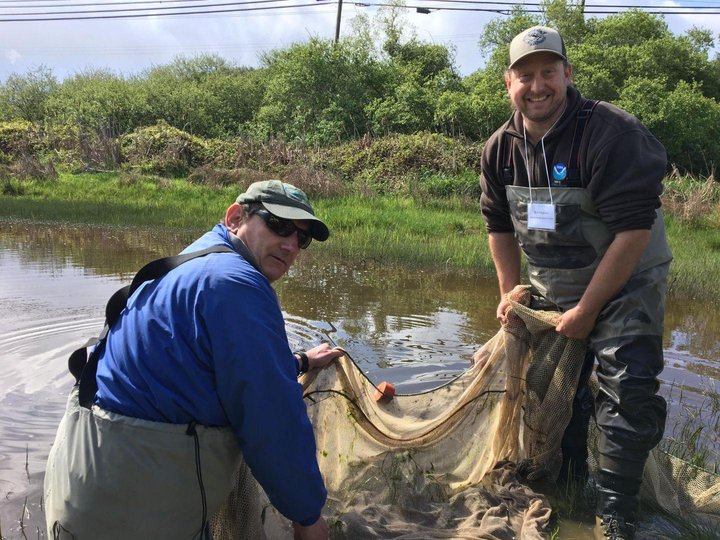 Under normal circumstances, Bob Pagliuco would have spent today collecting fish samples to see how a local restoration project is coming along. But for Pagliuco and other employees of the federal government, the past three weeks have been anything but normal. Like hundreds of thousands of others nationwide, Pagliuco has been furloughed due to the ongoing federal government shutdown. He's not working and he's not getting paid.

"People have asked, 'How's your vacation?'" said Pagliuco, a marine habitat restoration specialist with the National Oceanic and Atmospheric Administration. His answer? "Jesus Christ. Stressful!"
Pagliuco and his wife racked up some credit card debt buying Christmas presents for their two kids, and to make matters worse he just found out that, thanks to another snafu caused by the shutdown, his family's not covered through his health insurance.
He and his wife have been together for nearly a dozen years, but they didn't tie the knot until last last summer. In late November, during the federal open enrollment season, Pagliuco filed paperwork to get his family added to his insurance, and early last month he received a confirmation email letting him know that their coverage would begin on Jan. 6.
Confident in the new coverage, his wife canceled her existing policy for herself and the kids. But after spending an hour on the phone with Blue Cross yesterday, Pagliuco learned that, due to the shutdown, no one had processed his paperwork.
"So now my kids and wife are uninsured," he said. He had to cancel the Friday doctor's appointments they'd made for the kids, and now they're extra scared of medical emergencies.
"I'm definitely driving the speed limit," Pagliuco said.
With no end to the shutdown in sight, he's begun looking for other work, possibly on a crab fishing boat, though that $40 million local industry is also being impacted by the shutdown. The Coast Guard workers who conduct the legally required safety training and inspections for crab fishermen and their vessels have been furloughed, too.
The commercial Dungeness crab season for the region from Patrick's Point south to the Sonoma/Mendocino county line is scheduled to open next Tuesday. If the furlough continues past that time, any crab fishermen who want to work but have yet to get their inspections must be willing to break the law.
[CORRECTION: An officer with the Coast Guard's Marine Safety Detachment tells the Outpost that any fisherman who hasn't received the required vessel safety inspection, or whose tag is expired, can contact the detachment's 24-hour duty line to arrange one: (707) 407-9585. The Outpost regrets the error.]
These are just a few of the consequences of the shutdown here in Humboldt County. Other people reached by the Outpost said they're worried about covering their bills, and some in the community fear that they'll soon be unable to put food on their tables.
Liesyka Parrott and Julie Clark, local residents employed by the Bureau of Land Management, appeared on today's episode of CBS This Morning to describe how the shutdown is affecting them and to respond to President Trump's national address, delivered Tuesday night:
As Parrott explained to CBS News correspondent Carter Evans, she's a single mom of a 13-year-old son, and she's down to her last $800. The prospect of the shutdown continuing for weeks or even months is incredibly stressful. But beyond the personal impacts, Parrott gets upset thinking about the work that's going undone.
"We had great weather during Christmas; it would have been a perfect burn day for a prescribed fire," she told the Outpost. "After watching the Carr and Camp Fires, those things could happen here. I hate the idea of that work not happening because those employees have been laid off."
The things being left undone are significant, she said. "It's not just garbage and toilets; it's real work."
Parrott, a shop steward with the National Federation of Federal Employees Local 2152, said there are close to 800 BLM employees in California alone. Speaking as a public land user, rather than a spokesperson for her union, Parrott said she laments the loss of student field trips, community science programs, fire rehabilitation work and spring planning that would otherwise be taking place.
She's obviously worried about not getting paid, "but it's also a labor of love," she said. "We do this work because we care about our public lands."
Parrott told the Los Angeles Times that she canceled a surgery scheduled for next week because she can't afford the deductible, and she's burning wood rather than using the furnace. She also applied for unemployment. The hardest part, she said, is explaining to her son that she can't afford to buy him a new pair of basketball shoes.
Clark, a park ranger assigned to the Headwaters Forest Reserve, is now being forced to rely on the window-cleaning business she launched as a side gig 11 years ago.
"Thankfully I have that extra income, and with my husband's salary I should be able to cover the mortgage and the car payment," she said. But she's frustrated with the political stalemate in Washington, D.C.
"The government needs to compromise with each other, just like we all do on a day-to-day basis," she said. "Holding national parks as hostage, and all the other government agencies that are closed right now, it doesn't seem productive at all."
The impacts of the shutdown aren't limited to federal employees and their families; they're rippling out into the local economy.
"Since so much of our business comes from those employed by government-funded agencies or those who rely on their income from government programs, the shutdown is a real threat to our business and I'm guessing the local economy overall," said Melanie Bettenhausen, general manager of the North Coast Co-op.
And when the Co-op takes a hit, it reduces the amount of food they're able to send to the local food bank, potentially affecting the community members who have the least to give.
Heidi McHugh, community education and outreach coordinator at Food for People, said she's heard from a lot of locals experiencing anxiety over the prospect of funding cuts to the programs that put food on their tables.
"Currently everything is still funded," McHugh said. But there's a deadline, as CBS News reported earlier today:
If the government is not reopened before March, millions of Americans who receive benefits from the Supplemental Nutrition Assistance Program (SNAP) — the nation's food stamp program — could have their assistance disrupted. The funding provided for SNAP and other programs through February is only a temporary fix.
That fix was announced just last night by USDA Secretary Sonny Perdue, who explained that the funding bill that expired on Dec. 22 included a provision that allows federal agencies to make obligated payments to support certain programs for 30 days after its expiration date. That provision will allow SNAP recipients to receive benefits through next month.
"At this point they are exploring funding for March," McHugh said. "We are still incredibly nervous about that."
In a phone call with state representatives this morning, directors with the federal Women, Infants, and Children (WIC) program said that with existing USDA funding, plus some reserve state funds, WIC checks will continue to be issued through March.
Christine Messinger, a public education officer with the Humboldt County Department of Health & Human Services, said county staff will be looking to the state for guidance as the shutdown continues. In previous shutdowns, she said, the state has used unspent Temporary Assistance for Needy Families (TANF) funds and reserves to continue benefits.
In Humboldt County alone, more than 20,000 people receive aid through CalFresh, which is California's version of the SNAP program. More than 3,800 people in the county receive benefits from CalWORKs, the state's version of the federal welfare-to-work program. And the Humboldt County WIC program serves an average of 3,360 clients per month in Humboldt and Del Norte counties through five clinics located in Eureka, Fortuna, McKinleyville, Garberville and Crescent City.
McHugh said the Food For People office has been peppered with phone calls. "The big question, the reason people are contacting us, is, 'How are you prepared to address this should it become a full-blown crisis?' The answer is, we truly aren't." If the shutdown continues into the spring, people could go hungry. For every bag of groceries handed out by a charitable feeding organization, federal programs provide 20 additional bags, according to McHugh.
"That is not a gap that food charities can fill," she said.
There have been some concerns about security and safety at airports across the county, with many Transportation Safety Administration workers calling in sick as they're asked to work without a paycheck, but Cody Roggatz, Humboldt County's director of aviation, told the Outpost this afternoon that TSA screening officers and FAA technicians are working as normal at the Humboldt County Airport.
With no resolution on the horizon, federal employees are anxious for a political breakthrough. Parrott said she and her furloughed coworkers are all addicted to the news. "Nobody's calling this a vacation by any stretch," she said. "We all want to get back to our jobs."
As for the apparent political impasse behind the shutdown, Parrott doesn't blame any one person in particular, though she didn't buy Trump's speech to the nation last night. Nor was she impressed with the rebuttal from Senate Democrats.
"I feel like it just created more fear, more polarization," she said. "There was no common ground to find there at all between their two speeches." She thinks the legislature should reopen the government with an appropriations bill and then deal with border security separately.
"I don't think it's fair to keep the government shut down for somebody's personal agenda, for a campaign promise he wants to keep," she said in reference to Trump's proposed border wall, "and we're all suffering because he's not able to pull it off."
Pagliuco is skeptical of the wall, too.
"As a scientist I believe in making decisions based on data, and the data I've seen does not necessarily show a crisis at border at this time," he said. "I'm definitely for border security, and I'm for immigration policy reform, but the data shows visa overstays cause the majority of immigration problems here."
Pagliuco agreed with Parrott on another issue, too.
"I want to get back to work," he said. "Everyone I've talked to wants to get back to work."