A Los Angeles man accused of the home-invasion robbery of a Southern Humboldt father and daughter agreed today to have his preliminary hearing put off until late next month.

Franklin Antonio Molina, whose preliminary hearing had been set for this morning, agreed through a Spanish-speaking interpreter to have the hearing rescheduled for Feb. 26.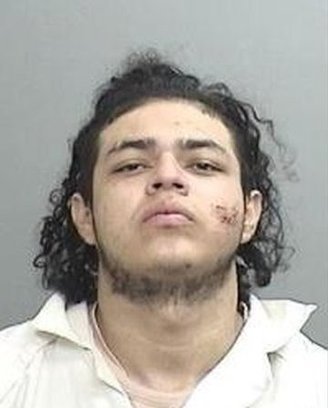 "I just received some new discovery this morning and I understand there may be more discovery coming," Deputy Public Defender Casey Russo, appointed to represent Molina, told Judge John Feeney. "This case is going to require quite a bit of investigation."
The 20-year-old Molina is one of two men suspected of robbing and falsely imprisoning Adam Owen and his daughter, Emmalaya Owen, on Dec. 21 at their home in the Island Mountain area. Molina's alleged accomplice escaped in one vehicle with stolen guns, marijuana and $30,000 in cash. Molina, who attempted to get away in Adam Owen's 2016 GMC Denali, was arrested when law enforcement was able to stall the stolen vehicle with a remote device.
During a long standoff Molina reportedly threatened numerous times to kill officers. He eventually fled on foot but was captured after being hit by one "less lethal" round fired by officers. He also was bitten by a Mendocino County K-9 officer.
Adam and Emmalaya Owen reported being duct-taped, assaulted and locked in a closet. The two robbers forced Adam Owen to open safes in the house and garage.
The case is being prosecuted by Deputy District Attorney Luke Bernthal, who did not object this morning to Russo's motion for a continuance. Bernthal had two officers waiting to testify if the preliminary hearing had proceeded.
Molina, who laughed and chatted during his last court appearance, scowled through most of the hearing today. He is being held on $250,000 bail.
###