Though his department is understaffed currently, the Yurok Tribe's new police chief envisions a time when his officers will serve residents both on and off the reservation.

The tribal police department has already provided backup to the Del Norte County Sheriff's Office, Chief Greg O'Rourke told county supervisors on Tuesday. The tribe's goal is to have 20 sworn officers on staff by 2025, he said.
"For up here in Del Norte County, our patrol staff would have a sergeant and five officers," O'Rourke said. "Our patrol schedule will allow for 18 hours of coverage, but we'd still have time where we'd have no coverage."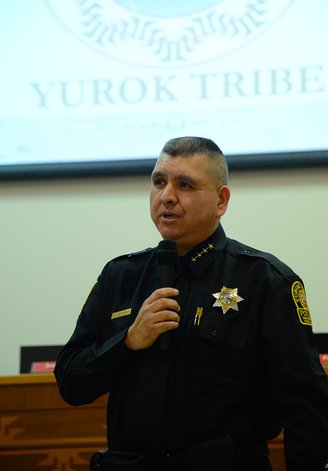 O'Rourke the first recruit from the Yurok Tribe Public Safety Department to go through the police academy in 2000. He said he was in the same academy class as Del Norte County Sheriff Erik Apperson. O'Rourke's 19-year career in law enforcement includes six years' service with the Hoopa Tribal Police Department and 12 years' service with the Humboldt County Sheriff's Office.
When O'Rourke came back to the Yurok Tribe Public Safety Department as its chief in March there were only four sworn members on staff. O'Rourke said three people quit when he and his lieutenant, Jacob Morris, took the oath of office forcing them to rebuild the department.
"I think that may have been a blessing in disguise," O'Rourke said. "We have the opportunity now to lay down a solid foundation for a sustainable law enforcement program. But it takes time to build up a department, especially building a department that has a law enforcement culture that's going to be nurturing and supportive of new officers coming in."
Since March, O'Rourke's department has hired two new officers from the 123rd police academy. Two other new recruits started the current academy Monday, O'Rourke said. His department's also in the process of bringing on two lateral officers
O'Rourke said he's also working to bring on part-time staff to enforce the tribe's fishing codes on the Klamath River. As his department grows, O'Rourke said the tribe plans to hire a warden sergeant and two wardens that would not only enforce the tribe's fishing regulations but also respond to calls for water rescue and search and rescue services.
O'Rourke also noted that cross deputation agreements on both sides of the county line means that a cop will be able to respond to calls for service in the southern part of Del Norte in a timely manner. The tribe's police officers will also be able to back up sheriff's deputies in other parts of the county, he said.
"Even though we look to eliminate a reliance upon the sheriff's office to be able to offer comprehensive law enforcement to the reservation, it doesn't mean we're looking to separate from the sheriff's office," O'Rourke said. "Quite the opposite. We intend to integrate more with the sheriff's office both in Humboldt and in Del Norte County. That level of cooperation, the level of mutual training and that level of working together, boots on the ground, can offer the citizens in Del Norte County and Humboldt County more law enforcement services."
Brian Donahue became the first Yurok Tribal Police officer to be cross deputized with the Del Norte County Sheriff's Office in January 2018. Before he administered the oath of office to Donahue, Apperson called the occasion a cause for celebration, saying it represents more than two years of work between the county and the tribe.
Cross deputation with the Yurok Tribe was a topic Apperson brought up frequently when he ran for his first term as Del Norte County Sheriff in 2014.
On Tuesday, Del Norte County District 1 Supervisor Roger Gitlin asked O'Rourke how many calls for service he expects his officers to be able to respond to off the Yurok Reservation as the tribe's law enforcement footprint grows.
Though he didn't know what the volume for service calls would be as his department evolves, O'Rourke said the only time his officers would look to the sheriff's office for help would be for larger crimes in the Klamath area. But, he said, his officers would be able to keep the peace, identify witnesses and begin initial interviews while waiting for a sheriff's deputy.
"That type of preliminary investigation to major crimes goes a long way to help prevent further crime," O'Rourke said.
It's ultimately the tribe's goal to have its detectives work "hand-in-hand" with detectives from Humboldt and Del Norte counties, O'Rourke said.
Gitlin's colleague, District 3 Supervisor Chris Howard brought up the recent endangered species designation for spring-run chinook salmon on the Klamath and Trinity rivers.
The California Fish and Game Commission recommended the Klamath-Trinity spring-run chinook as a candidate for the California Endangered Species Act list in February. This afforded the salmon run the protections of an endangered species.
In April, however, state Fish and Game commissioners approved a shorter sport fishing season with a reduced bag and possession limit for the spring-run chinook despite its candidacy for protection. Recreational fishermen could start fishing for spring-run chinook on July 1.
Howard noted that the tribe, which supported the spring-run chinook's candidacy for the California ESA list, also has a substantial gill net fishery for spring-run salmon. He asked O'Rourke how he would go about enforcing the current designation.
"Is it a policy or a natural resource law that is created by the Tribal Council then you guys enforce, let's say, state law, which bans the take of spring-run chinook?" Howard asked.
O'Rourke said he hopes to hire part-time staff to enforce fishing regulations on the Klamath River.
"If a non-tribal member, for example a Hoopa Tribal member, who is native but not necessarily a Yurok Tribal member comes up and fishes, we have the option to be able to impose tribal code onto them or go a state route," O'Rourke said. "That's going to be up to the discretion of the officer."
If a non-tribal member who is a non-native is caught fishing for spring-run chinook, with the deputation agreement between the tribe and Del Norte County Yurok police officers will be able to enforce state regulations.
"One of the benefits of the deputation agreement is it allows boots on the ground options," O'Rourke said. "Options could either be applied to what's going to be the most effective at enforcing or stopping illegal behavior or options (could be) to provide a quicker path to resolve what the situation is."