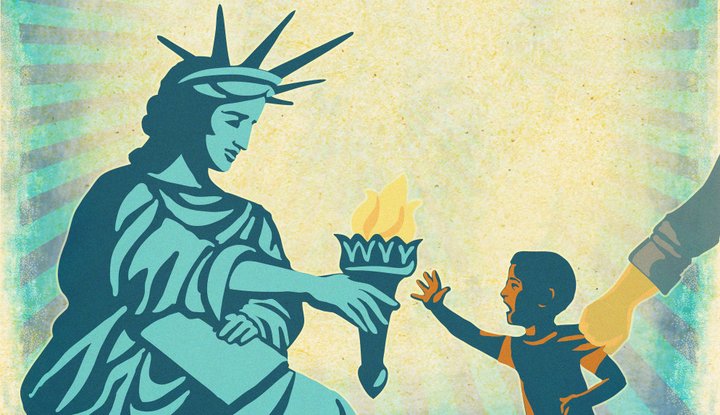 ###
Tonight, people across the country will be holding mass vigils in support of people detained and held in inhumane conditions after attempting to cross the U.S.-Mexico border.
The national organizers of the event are organizing under the banner "Lights for Liberty: A Vigil to End Human Concentration Camps." Vigils are being planned at several locations associated with the immigration system and the federal government, including detention centers in Florida and Texas, and they're also being organized in solidarity in communities across the country.
From the "Lights for Liberty" website:
Lights for Liberty seeks to create this event in solidarity and allyship with communities most impacted by the abuse of our immigration system. We seek to work in solidarity with grassroots organizations both new and historic, those who are well-funded and on shoe-string budgets. We are moved to mobilize with anyone: moms, dads, and people of moral conscience who cannot stand to see families and communities destroyed. Simply put, our country is at a tipping point.
Locals will be joining vigil at three spots around the North Coast — Eureka, Fortuna and Crescent City. (If you know of other "Lights for Liberty" events tonight, let us know.) Here's where to go.
The Eureka vigil — more details of which can be found at this link — will be held at the Humboldt County Courthouse from 8:30 to 9:30 p.m., and will be hosted by True North. They say:
True North Organizing Network's Spanish-Speaking Local Organizing Committee is hosting a candlelight vigil for refugees currently imprisoned in concentration camps at our southern border. The vigil is part of Lights for Liberty: A Vigil to End Human Detention Camps, which is a national effort that will bring thousands of Americans to detention camps across the country, into the streets and into their own front yards, to protest the inhumane conditions faced by refugees.


The event will be held at the Humboldt County Courthouse and will include testimony and prayer from members of our community as well as spiritual leaders and allies. We invite the larger community, including elected officials and public servants, to join us in prayer and protest over the inhumane conditions currently faced by migrants on US soil.
###
The Fortuna vigil takes place from 7 p.m. to 9 p.m. at Rohner Park, and is hosted by a coalition of groups, including Centro del Pueblo, the Eureka NAACP, the Humboldt and Del Norte Central Labor Council. They say:
On Friday, July 12th, 2019 Lights for Liberty: A Vigil to End Human Concentration Camps, will bring thousands of people to locations worldwide as well as to concentration camps across the country, into the streets to protest the inhumane conditions faced by migrants. https://www.lightsforliberty.org

JOIN THE VIGIL in FORTUNA

We'll have the presence of our Indigenous leaders, there will be music and testimonies. Candles will be provided to enlighten our protest. Tables with info about Immigrant Rights, and Art in benefit of this cause will be displayed.

Is the time for us to stand up for the most vulnerable, the communities most impacted by the abuse of the immigration system. In 2017 I.C.E raids terrorize the families of Fortuna, "we live in fear to be separated from our beloved ones, nevertheless we work and study every day for the benefit of Humboldt", Centro del Pueblo activists.

Latinx Immigrant Families, Indigenous Immigrants from around the world living in Humboldt, you are not alone! Strong individuals have joined Centro del Pueblo to organize this event.
###
The Crescent City vigil takes place from 8:30 p.m. to 9:30 p.m. at the Beachfront Park Gazebo on Front Street. More details at this link. The organizers say:
Please bring a candle for the vigil and an open heart for our brothers & sisters.

"We are a coalition of people, many of whom are mothers, dedicated to human rights, and the fundamental principle behind democracy that all human beings have a right to life, liberty and dignity.

We are partnering with national, regional and local communities and organizations who believe that these fundamental rights are not negotiable and are willing to protect them.
###