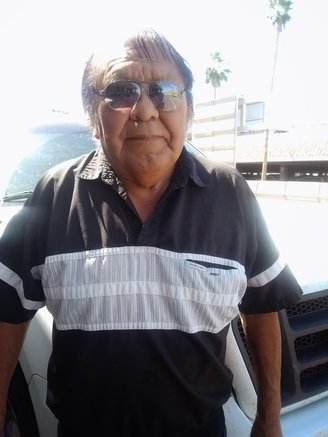 David Maloney, Sr.
1942 — 2019
David Maloney was at home surrounded by family when he made his final journey from this earth to the loving arms of his Lord and savior on July 9, 2019.
Dave was born in Moenavie, Arizona following the dinosaur tracks and playing at the foot of the Mesa, where the cool water flowed. He did not have a birth certificate so we never really knew his real birthday but we always celebrated on September 29, 1942. He was a full-blooded Navajo and member of the Navajo Nation in Arizona.
He is preceded in death by his parents; Mother Dorthey Maloney, Zuni Edgewater (Ta'baahi'), born for bitterwater (To'dich'ii'nii), his Father Okee Maloney, many goats (Tl'zilani) and red running into the water (ta'chii'nii) clans. He was the second of twelve Maloney children the big brother of the family and a good one he was! Alice Edwards, David, Doris Martinez, the late Raymond Maloney Sr., Phillip Maloney, Roger Maloney, Sr., Timothy Maloney, Shirley Reed, Terry Maloney, Opee Maloney Sr., Loretta Secody, Maron Maloney Sr.
Dave was captured, like many children, at the Tuba City Trading post and placed in the Stewart Nevada Boarding School. He never liked it! He was taught English and beaten for speaking his Navajo language. He ran away several times, until the Hoover Dam stopped him. It was here he was caught. He took his family to the Hoover Dam many times re-living this memory.
Dave was an avid horseman. As a child his greatest accomplishment was trying to catch a wild stallion. Breaking, training, rodeo and endurance riding was a passion he passed on to his kids.
He met the love of his life, Ethel Smoker, in Phoenix, and in 1959 he followed her to Weitchpec, which became his home. He loved his in-laws Sam and Mary Smoker they treated him like a son. He started working with his father in law Sam at Humboldt Fir Mill working on the green chain. He then worked his way up to loader operator. He worked hard caring for his family working several jobs.
Dave was a man of integrity, hard work, an entrepreneur and a fighter to the end. He is well known for his cooking abilities, opening our family restaurant Dave's Café in Hoopa. He was well known for his Dave's special burger and his Navajo Tacos with his homemade chili. He opened a Dave's Drive-In in Loomis. He loved working with kids, he worked with an afterschool program and was the bus driver his favorites were the naughty ones.
Dave started a residential commercial cleaning business for new homes construction. His last business was an ice-cream truck in Arizona where he provided little kids with smiles and snow cones in Tuba City, Arizona and the old Hopi Village. His favorite was to go around the north rim of the Grand Canyon feeding all the local vendors.
Dave is survived by his children Doris Donahue, David Maloney, Jr., Ruthie Maloney and his grandchildren Katie Maloney, Rosie Donahue, David Maloney, III, Erica Williams, Bridget Dean, Samuel Nelson, and Heather Hammond. Great-grandchildren Larry Maloney, Dominic Maloney, Zane, Mazy, Opal & Jasper Maloney; Emily Williams, Richard, Keshan, Chegery Dean; Codi, Zabrina & Zayden Hammond.
Special thanks to our angels that help Dave to the end. His daughter Doris Donahue had a very special relation with her dad. They had an unbreakable bond and thru her own health issues she always lovingly cared for him. Jason Hammond — he was there with him until the end and he really appreciated everything you do, love you like a son. JC, John Charles — words cannot express how thankful we are for you and your family. Paths crossed by God. My Dad's special friend to the end. You made him smile and laugh. Cared for him with such love and compassion. Thank you!
Hoopa Assembly of God, the Maloney family church! Pastor John Armond. Thank you for officiating the Celebration of Life for David Maloney. Thank you for coming to our home and bringing an extra spirit of life in him. Your prayers and love helped us so much during this difficult time.
Humboldt Hospice — Thank you for all the support and care that you provided for Dave and his family. No words can express how much you helped us during this difficult time. The animal assistance was such a big help Thank you. Thank you. Your staff, social worker, nurses, doctor were so patient, caring and understanding when things were too much for the family. My only wish is that Hospice may extend their services to the outlying rural areas such as Weitchpec and Orleans. Your services are much needed throughout Humboldt County.
Today I will walk out,
Today everything evil will leave me,
I will be as I was before
I will have a cool breeze over my body.
I will have a light a body
I will be happy forever
Nothing will hinder me.

I walk with beauty before me, I walk with
beauty behind me, I walk with beauty below
me, I walk with beauty above me, I walk with
beauty around me, my words will be beautiful
In beauty all day long may I walk.
Through the returning seasons may I walk
On the trail marked with pollen may I walk
With dew about my feet may I walk
In old age wondering on a trail of beauty
Lively again may I walk
My words will be beautiful
###
The obituary above was submitted on behalf of David Maloney's family. The Lost Coast Outpost runs obituaries of Humboldt County residents at no charge. See guidelines here.