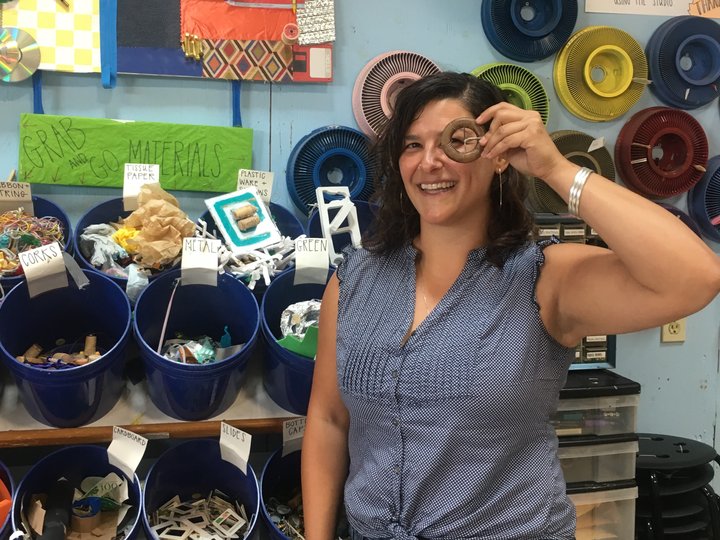 When imagining street art, many will immediately think of large murals painted on the sides of buildings. But local artist and SCRAP Humboldt co-founder Tibora Bea wants to remind us that public art does not necessarily need be big to leave a big impression.

During the upcoming Eureka Street Art Festival, while many other artists are perched atop lifts, making murals, you'll find Bea much lower to the ground, working on a smaller scale. Bea will be introducing her Tiny Doors Humboldt project — a series of miniature dioramas scattered throughout downtown Eureka.

Bea was inspired by similar projects she had seen while traveling, including the mouse-sized art of Malmo, Sweden and the tiny doors project in Atlanta. Bea was immediately attracted to these small-scale installations because they felt like a discovery, something you might not notice unless you were looking. She felt that a project like this would be great for Humboldt and decided to apply for the festival.

"I'm pretty honored," Bea told the Outpost about being selected as one of this years artists. "I've been looking at street art all over the place. It's exciting to be able to participate in a festival, rather than just view it."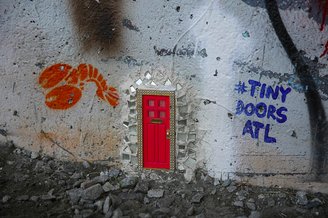 Bea grew up in Arcata and has a background mainly in photography and art education. After living and working in the Bay Area for a while, Bea returned to Humboldt and started searching for ways to make use of her art skills.
With the closure of the Arcata Community Recycling Center, Bea felt that the area needed another space dedicated to waste reduction. With the help of Patti Johnson and Spring Garrett, Bea opened SCRAP Humboldt in Arcata in 2012.

SCRAP Humboldt is part of the SCRAP USA Network, a non-profit organization with several centers across the country. The organization is dedicated to creative reuse — repurposing already manufactured materials into something with a new function.
Creative reuse is also a big part of Bea's street art project, with each of her tiny doors being made of repurposed materials from SCRAP. Bea said that working with repurposed materials can be challenging, especially when considering that her works will be on the street, exposed to destruction from both weather and people.

But Bea enjoys the challenge of creative reuse, which she believes is becoming increasingly important. Not only does repurposing objects reduce the amount of trash going into landfills, Bea said, it also encourages creative thinking and problem solving.

"The more you can change your perspective and think about the transformation of objects, the more tools you have to innovate, invent and be creative," Bea told the Outpost. "All these materials we've created, especially plastic, are going to be around forever. As we move into the future, we're going to have more and more stuff around and people will have to think differently about it. Otherwise, we'll just be buried in our garbage."

The exact location of Bea's tiny doors has not yet been revealed. Part of the fun will be searching for them during and after the festival!

This year's Eureka Street Art Festival takes place primarily on Sixth Street between C and H Streets in Eureka and runs July 27 through August 3. You can find more info here.

You can view some of Bea's art by following her on Instagram.