UPDATE, AUGUST 1:

So it turns out you may not be getting that $125 from the Equifax data breach. So many people have filed a claim that the Federal Trade Commission updated their Equifax Data Breach Settlement page stating: "Because the total amount available for these alternative payments is $31 million, each person who takes the money option is going to get a very small amount. Nowhere near the $125 they could have gotten if there hadn't been such an enormous number of claims filed."
The FTC goes on to say that the free credit monitoring option is a "much better value." So here we are, yet again — a major corporation makes a massive mistake, pays a pittance for it, and the public gets to fight over the scraps.
You can change your claim from the $125 to free credit monitoring by following the steps listed in FAQ number 6 on the FTC Equifax Data Breach Settlement page.
###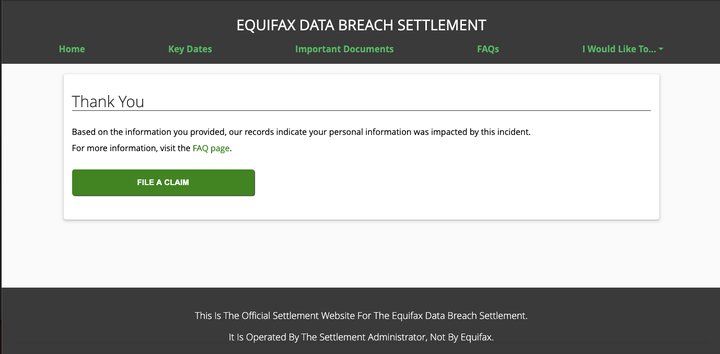 ###
Back in Sept. 2017, Equifax, an online data and analytics company with a focus on credit monitoring, announced their database was breached, resulting in the exposure of credit information of 147 million people — or about half of the United States.
On Monday, the Federal Trade Commission reached a settlement with the company that includes "up to $425 million to help people affected by the data breach," according to statement from the FTC.
It is pretty easy to figure out if you were affected — five out of five LoCO staff were, so you should at least check.
All you do is: type in your last name and the last six digits of your social security number and hit submit. One of two screens will pop up and you can file a claim if need be.
If you were affected, you are entitled to "up to 10 years of free credit monitoring" or $125.
If your expenses were affected due to the exposure of your personal information and you spent time trying to recover your assets, you may be awarded up to $20,000.
You have until January 22, 2020 to file a claim.
Even if you do not file a claim, you are eligible for at least seven years of free help from Equifax with recovering from identity theft and starting in 2020 "all U.S. consumers can get 6 free credit reports per year for 7 years from the Equifax website."
View a statement from Federal Trade Commission at this link.
In 2017, Equifax announced the sensitive information — names, birth dates, social security numbers, addresses, etc. — of 147 million Americans had been exposed to hackers. The hack took place between May and July, 2017.

One of the main problems with the breach is that many of Equifax's customers may not have known they were an Equifax customer. Information is forwarded on to Equifax through banks, credit card companies, creditors, lenders and other sources.
Here's an infographic from the FTC: