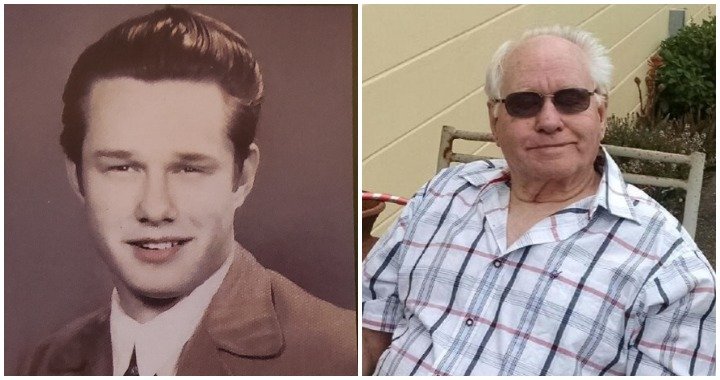 Gene passed away on July 15, 2019, at the age of 84.
Gene was born in Mena, Arkansas, on October 14, 1934, living there until moving as a boy with his family to the California Central Valley, where he and his family worked picking fruit in the orchards. When he was 18, the family moved to Eureka, where he graduated from Eureka Senior High School in 1953. During his working years, he worked in the lumber business for Holmes Eureka and Pacific Lumber Company. He managed the Pacific Lumber Company retail yard on Broadway in Eureka until PALCO was sold and the Bayshore Mall was built, at which time he went to work in Scotia until his retirement.
Gene was a smart, witty man. In addition to his family, Gene loved Giants baseball, classic country music, and classic cars, possessing an encyclopedic knowledge of these and many more areas of interest. He also loved Dungeness crab and was very happy each season when he could have Dungeness crab sandwiches. Gene liked to work with wood at home also and made several furniture items including beds, dressers and desks. He also did a lot of upgrades to the family house, such as remodeling the kitchen, bathroom and adding redwood to the walls. Gene enjoyed riding his motorcycles in his free time until his health dictated otherwise. He took many rides, exploring Northern California and Southern Oregon with friends and his son-in-law, Jeff.
Gene was introduced to his wife of 63 years, Janice (Notard) Davis, at Morrow's Drive-in, where they liked to hang out. They were married in June 1956. Gene and Janice have 3 children, Dianne, Ron, and Pam.
Gene was preceded in death by his father, Roy Davis; mother, Emla Davis; sister, Vivian Rankin; and grandson, Garrett Kocina.
Gene is survived by his wife, Janice Davis; daughter, Dianne Davis; son, Ron Davis; daughter, Pam Kocina; and son-in-law, Jeff Kocina. He also leaves behind 4 grandchildren who knew him affectionately as Papa: Rebekkah Wilson, Matthew Kocina, Amanda Davis, and Dylan Davis; Amanda and Dylan's mom, Lynette Davis; and three great-grandchildren: Tiegan, Rosalyn, and Jameson.
As per Gene's wishes, there will be no services. In lieu of flowers, please make a donation in his name to the charity of your choice.
###
The obituary above was submitted on behalf of Gene Davis' family. The Lost Coast Outpost runs obituaries of Humboldt County residents at no charge. See guidelines here.