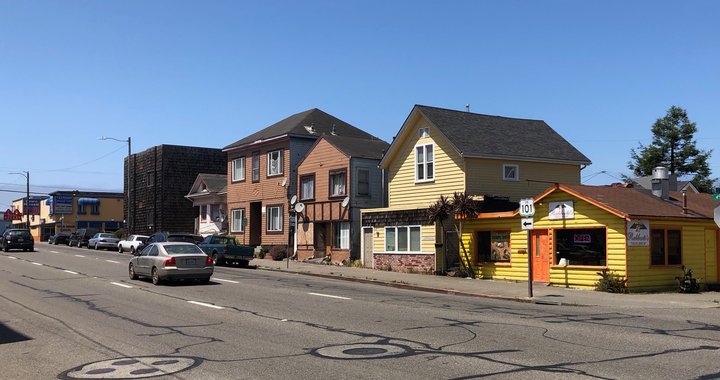 No one would characterize the 1000 block of Fourth Street as one of Eureka's crown jewels. The four big houses here, which were long ago subdivided into apartments, exist in varying states of disrepair, facing a busy, three-lane stretch of Hwy. 101, just east of the county jail.
Smack-dab in the middle, a brown two-story with warped siding has a slab of plywood where the front door should be and another covering a broken first-story window. Little gray satellite dishes cling to the building facades like barnacles.
Ruben Sanchez lives on the bottom floor of the nicest house on the block, a yellow two-story place right next to the popular taco shop Raliberto's. He's lived there for about four years, he said, but a couple weeks ago he got a notice informing him he'll need to find a new place by the end of the year.
How does he feel about it?
"I dunno; I have no choice," Sanchez said. "I wanted to continue living here to save money to buy a house, but that's not gonna happen."
The County of Humboldt, which already owns the wood-shingled rectangular building on the southwest corner (home of the Public Defender's Office), wants to purchase the rest of the block and demolish the structures, replacing them with a parking lot that contains about 35 spaces.
The Board of Supervisors is scheduled to move forward with the purchase at its regular meeting on Tuesday, giving Public Works Director Tom Mattson authority to sign a property purchase agreement for three parcels at a price of $911,500. (That's the exact amount of an appraisal the county received for the parcels back in June 2017.)
A staff report explains that the purchase has been in the works for more than three years, and it's part of a long-term strategy to make county government more user-friendly. In January of 2016 the board approved a "comprehensive finance package" that calls for the creation of "campuses" — that is, places where related county functions are grouped together for public convenience.
Putting a parking lot here would fit into that concept, the staff report says, by offsetting the loss of parking that's expected to result from the long-planned expansion of the county jail to include a new Community Corrections Re-entry Resource Center.
The little blue "P" on the center-left of this map will disappear shrink once the county jail is expanded to include a "re-entry resource center."
That project is currently in the design phase, according to Sean Meehan, the county's deputy director of facilities management. "We're looking to break ground on that sometime next year — probably summer 2020," he said.
Meehan said he didn't know exactly how many people live on the block. The Outpost counted 10 mailboxes, not including the one for Raliberto's.
After a series of restaurants came and went from that strange log-cabin on the corner (including a Jamaican joint and a Southeast Asian spot), Raliberto's has proved a popular lunch spot since opening in 2016. Featuring San Diego-style Mexican cuisine, it's frequented by attorneys, people on break from jury duty and other local lunchtime bargain hunters (including Outpost staffers).
A Raliberto's employee who answered the phone today said he didn't have any information about the pending eviction, nor could he put us in touch with a manager. But Meehan said he heard the owners were already looking to relocate.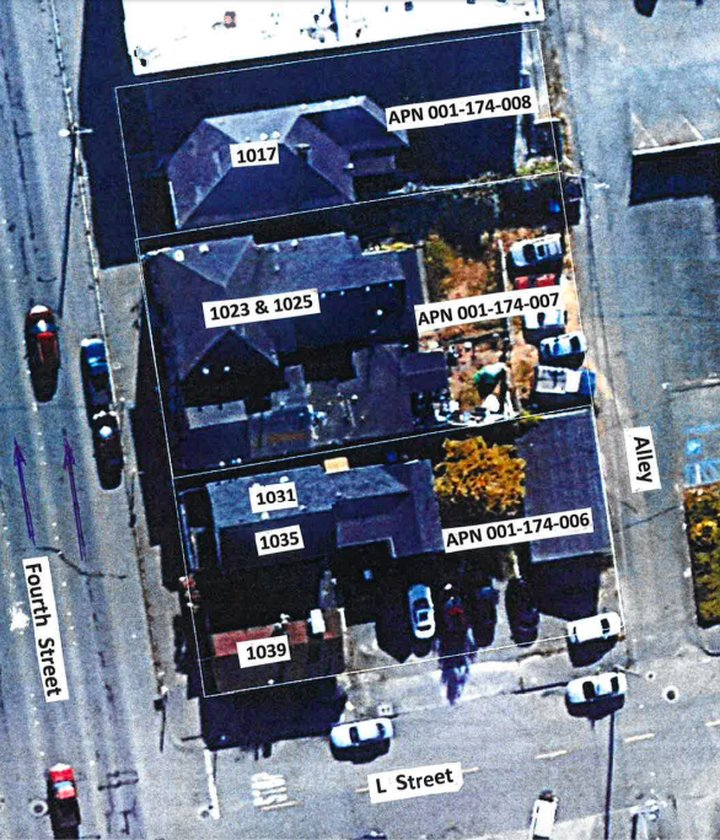 The three parcels are currently owned by Gerald and Belinda Rush, who authorized Community Realty to represent them in negotiations with the county. Both sides initially agreed on a purchase price of $900,000, with escrow scheduled to close in August of last year. But negotiations and environmental reviews have taken longer than planned.

The county is currently working to wrap up the environmental review process for the property purchase and the parking lot development. After a recent meeting between county staff and Community Realty, the two sides agreed to a new close-of-escrow date of December 31, 2019. Community Realty has submitted a new Commercial Property Purchase Agreement with the purchase price increased slightly to match the 2017 appraisal.
If the board of supervisors decides to move forward with the purchase at tomorrow's meeting, the county will sign a Notice of Intention to Purchase Real Property and submit a non-refundable deposit of $45,000.
This afternoon, Sanchez didn't seem too torn up about having to move in the next five months. He summed up his living situation succinctly: "Cheap rent, bad neighborhood."
Maybe a bigger jail and a new parking lot will improve things.