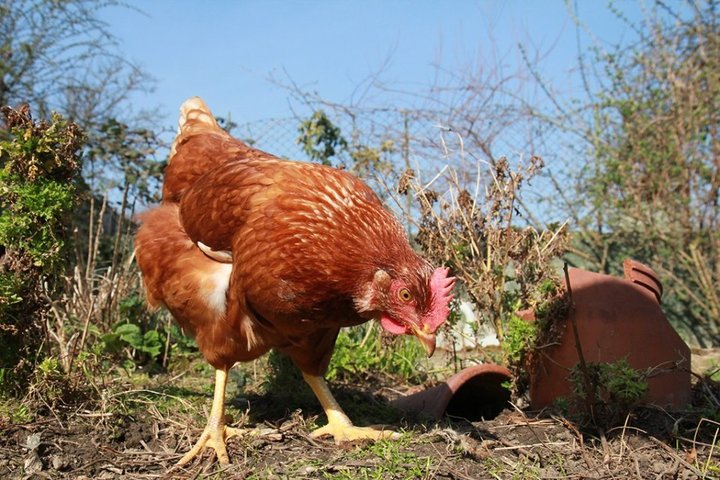 9:37 a.m.: Dad stirs, awakened by chickens. What fresh hell is this, Dad wonders.

10:08 a.m.: Unable to block out the deafening roar of chickens any longer, Dad bravely faces day. Makes three espressos in quick succession and makes googly eyes at 9-month-old granddaughter who is drooling on Times-Standard.
10:42 a.m.: Six or 10 pieces of bacon? Weighs pros, cons. Con: risks being low on bacon tomorrow. Pro: More bacon. Compromises on seven. Wonders how long mom will hog crossword puzzle; reflects briefly on widowhood. Chides self for not making enough bacon.
11:32 a.m.: Dad grumpy from grandchild's daily reminder that he is no spring chicken. Remembers his new pizza oven will soon allow him access to crust done THE RIGHT WAY. Things ain't that bad, Dad figures.
12:20 p.m.: Sick of women ogling baby, Dad hides in pottery studio. Takes out rage against the machine by beating defenseless clay.
1:47 p.m.: It being Spring, Dad makes his seasonal visit to K-Mart to investigate the fantastic offerings on display in Menswear. Jackpot for Dad! Striped cotton T-shirts have arrived in fresh hot spring colors. Dad greedily buys much of X-Large selection, figuring you snooze, you lose, other dads!
3:07 p.m.: Dad takes 'forest bath' in Redwood Park, having learned about this phenomenon on a PBS show about Japan. Wonders how no-one else realizes how refreshing walking in forest is. Considers telling but decides it's best kept secret.
5:22 p.m.: It's Tuesday! Which is fresh organic chicken liver day at the Co-op! Dad hurries, lest butchers put them precipitously in the freezer. Congratulates self on remembering to buy bacon. No paltry 7 strips manana for Dad!
7:20 p.m.: Wonders if any one will ever notice his new K-Mart shirt. Muses on uniforms in Star Trek: The Next Generation; figures Picard has it easy. No clothes shopping for Picard! Just Earl Grey tea, hot.
8:30 p.m.: Dad thrills to realize tonight's episode of Thrill of the Grill is hitherto unseen! Celebrates with spoonful of extra butter in after-dinner mush. Mom asks various questions about plans for the week which Dad pretends to listen to. Wonders if new pizza oven will truly satisfy itch. Only alternative: bleak death.
9:22 p.m.: Sketches cartoon of nose as political candidate, soundly defeating Beto O'Rourke in primary. Hilarious! "My nose is running — Vote for my nose!!" Dad cracks himself up.
10:32 p.m.: Google Earth checking the streets of Marseille, Dad is relieved to see baguettes still look plentiful.
11:01 p.m.: Dad retires to bath with volume of Gibbon, wishing he had valet to iron his newspaper in morning.
11:31 p.m.: Sleep that knits up the ravell'd sleeve of care.