PREVIOUSLY:
###
A Fortuna teenager pleaded not guilty today to threatening a Christian youth group that plans to visit Humboldt State University.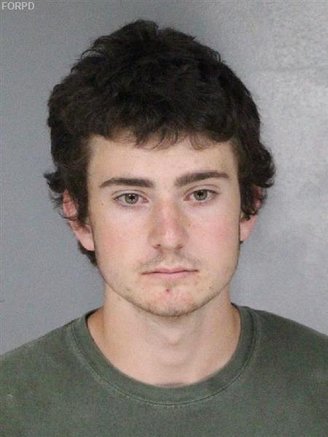 Attorney Ben Okin entered the pleas on behalf of 18-year-old Sean Michael Allman, charged with terrorizing or obstructing the exercise of religion and making threats of death or great bodily injury. Fortuna police arrested Allman on Saturday after he allegedly sent a threatening group text to some members of the Episcopal Diocese of Northern California.
Judge Kelly Neel lowered Allman's bail from $1 million to $50,000, noting that is twice the amount listed on the bail schedule for the charges filed. Neel also ordered Allman to stay at least 1,000 yards from HSU and told him he can't own a firearm "or any item that can be used as a firearm." He also was ordered not to purchase a gun.
Allman cannot contact members of the diocese. He also is subject to being searched at any time, day or night. The same condition applies to his cellphone or any other electronics.
Asked whether he understood the conditions, Allman replied "Yes."
Deputy District Attorney Whitney Timm, asking for bail of $75,000, said Allman sent "very threatening messages to a youth group," including a video of a person firing a gun at a group of people. According to previous reports, Allman also mentioned the New Zealand mosque shooting and the Columbine High School shooting.
Timm said Allman had notebooks containing disturbing material. Allman does not attend HSU.
According to the criminal complaint against him, Allman sent the threats on June 13 and June 14.
Today Okin said Allman has no prior criminal record, and his family are long-time local residents. At the time of his arrest he was living in Fortuna with his grandmother.
"He doesn't have access to any firearms," Okin told the judge.
Neel advised Allman the criminal threats offense is a potential "strike" charge. She also said he could be sentenced to a maximum of three years on each of the charges.
After Allman's arrest, HSU issued a flyer warning people to be on the alert in case he is released.
Allman's family members were in the courtroom for the arraignment this afternoon. To post bail, the family would have to come up with about $5,000. As of 3 p.m. he remained in custody.
Okin made a "special appearance" today, meaning he has not yet been hired.
Allman's preliminary hearing is scheduled for July 1.