Video of the scene provided by Outpost reader Richard Schmueckle.
One person was arrested for driving under the influence last night after a car plowed into the typically busy H Street sidewalk outside of Don's Donuts in Arcata.
According to the Arcata Police Department patrol log, the car may have struck one or more pedestrians. Firefighters and paramedics were dispatched to the scene, but it's unclear if anyone was injured as a result of the crash.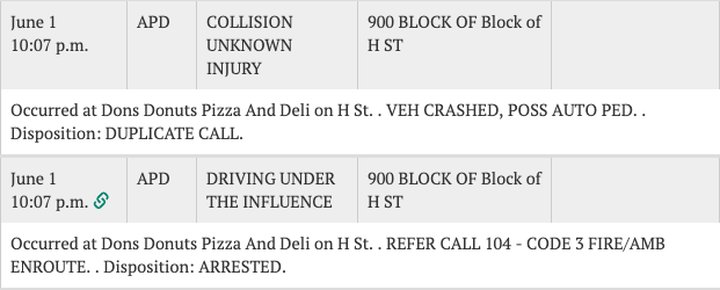 The Outpost's Patrolled tool.
A video of the crash scene, provided by an Outpost reader, shows that other cars may have been damaged. However, it's unknown at this time if any other drivers were involved in the wreck.
Arcata Police reportedly took the DUI suspect into custody at 10:07 p.m.