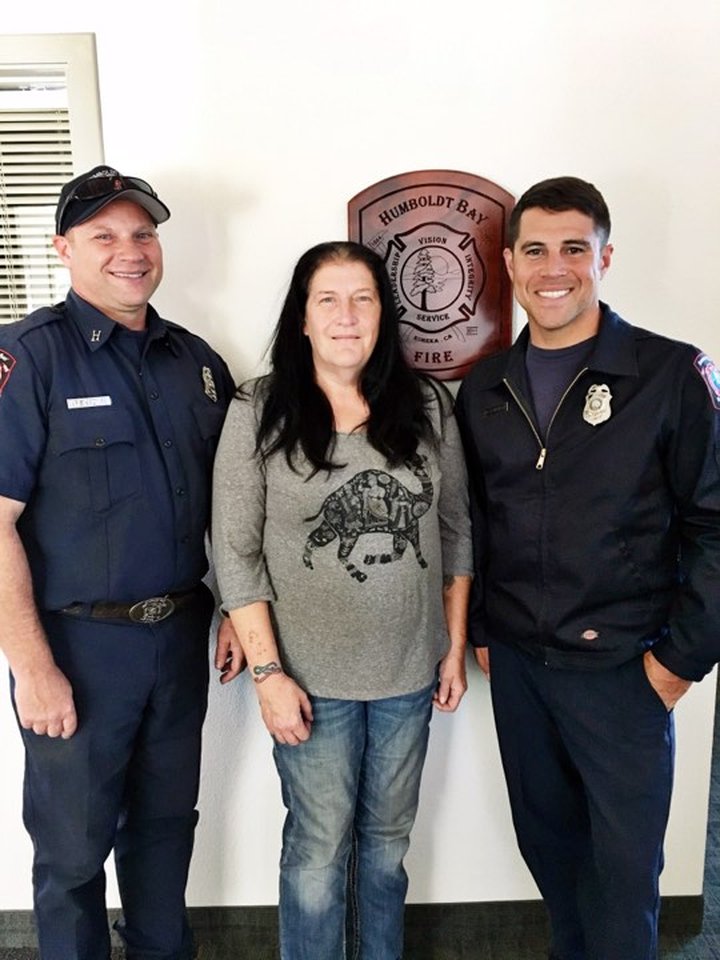 The following was posted to social media this afternoon by Humboldt Bay Fire:

On May 31 at 11:32 am, Humboldt Bay Fire Engine 8115 was dispatched to a medical aid at a residence in Eureka. Upon arrival, E8115's crew found a female patient with no pulse and not breathing. The crew took action immediately and began lifesaving efforts on the living room floor of the residence, including defibrillating the patient twice, starting an advanced airway, and administering lifesaving drugs in addition to performing CPR.

While still on scene the crew was able to get the patient's pulse back. With the help of City Ambulance, the patient was transported to St. Joseph's Hospital.

Yesterday, the HBF crew on that call was paid a special visit by the patient from that call. Carie Murner stopped by Fire Station 5 to thank Fire Captain/Paramedic Kris Kalman, Firefighter Yolla Montalbin, and Firefighter Kameron Waters (not pictured) for their lifesaving efforts that day.

Our personnel do not always get closure on the people we help so to see the most positive of outcomes from such a critical call is especially rewarding.

Ms. Murner also would like to extend a thank you to Eureka Police 9-1-1 dispatcher Brittany Wilson, who fielded her call and rapidly got help on the way. Emergency dispatchers are one of the biggest key links in the first responder chain, getting help on the way while gathering crucial information and often giving lifesaving instructions over the phone prior to the arrival of fire/police/EMS.

Stop by a Humboldt Bay Fire Station to visit the crew and ask more about our paramedic program.

This story was shared with the permission of the patient Carie Murner.